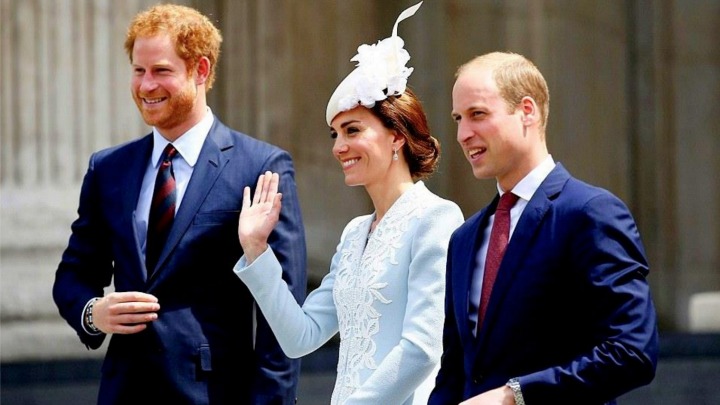 The Queen's birthday celebrations are continuing with a special event to mark the monarch's 90th birthday and give thanks for her service over the years.
The star-studded event was attended by the extended royal family as well as celebrities and politicians, who gathered to pay their respects to the Queen.
The Duke and Duchess of Cambridge appeared relaxed and happy, sharing jokes and laughing with Prince Harry who stayed close by their side for most of the day.
Thousands of fans and admirers turned out to see them and the Queen and they made sure to stop and chat with the locals who had been waiting for their chance to meet them.
Acting High Commissioner for Dominica, Janet Charles, revealed Harry told her the Queen should be putting her feet up, but had wanted to attend the service of thanksgiving in St Paul's Cathedral for the public.
Harry said the best present the Queen could get would be a "day off so she could lie about and do nothing!".
"He was talking about his grandmother. He said she should really be putting her feet up but she wanted to be here for the people," Ms Charles said.
"He said he hopes there's many more years of that to come.
She added that she even tried her luck at getting a photo with the young royal, but Harry was on his best behaviour.
"He's such a charming person. I asked him if I could have a photograph with him he said he couldn't as he had to obey the rules.
"But he said 'I'm sure we'll meet again'."
The Archbishop of Canterbury, Justin Welby, gave a touching tribute to the Queen and praised the way she had ruled "through war and hardship, through turmoil and change during the course of her 90 years".
Yesterday also marked Prince Philip's 95th birthday, but he didn't seem to mind showering attention on his beloved wife on his own day, happily smiling and mingling with the crowd.
Both Prince William and Prince Harry seem to adore their grandmother, with each of them regularly speaking about how much they admire her and love spending time with her.
Many have noted how nice it is to see them taking their roles in the public eye so well using their positions to give back to he community whenever they can.
Are you a fan of the young royals? Who do you think was best dressed at the event?
Comments