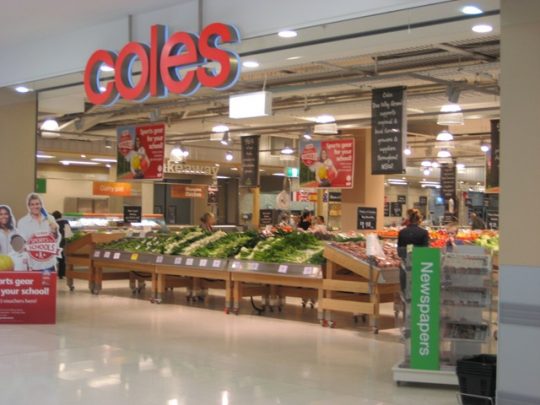 Looks like Coles is facing endless problems, from milk issues to egg troubles. And now, around 650 workers walked out of the Polar Fresh warehouse in Melbourne's west on Wednesday morning, causing the warehouse to shut down. And why should you be concerned? Polar Fresh runs the warehouse and supplies to none other than – Coles.
Coles and Polar Fresh on Wednesday applied for court orders against the National Union of Workers over picketing activity at a Truganina warehouse.
The workers picketing at a cold storage warehouse that supplies Coles have been ordered to stop by a Melbourne court, reports Daily Mail.
Paul O'Grady, acting for Coles, said workers holding union flags were linking arms and standing across the exit at the site to stop Coles trucks exiting.
But they were also stopping Coles trucks gaining access to other contingency sites set up so business operation could continue, he said.
Those sites were unrelated to the Polar Fresh dispute, the court heard.
"This is a specific targeting of Coles trucks," Mr O'Grady told the Victorian Supreme Court.
"One can infer it is to apply pressure to Polar Fresh through Coles."
There was a risk millions of dollars of fresh produce could turn rotten and be wasted, the court heard.
Justice Michael McDonald ordered the workers stop the picket action at the concerned sites by midday Thursday at the latest, and the matter will be revisited on Monday.
The union was not represented at the hearing as it was at a Fair Work Commission conference over the dispute, the court heard.
The National Union of Workers said workers have been struggling with under-employment for years and they are fed up.
"Negotiations for a new workplace agreement have broken down, and now workers have taken the tough decision to go on strike," Coles employees wrote on a crowd funding website dedicated to the strike.
"The fight against casualisation and under-employment is a fight for us all. Big corporations like Coles have an obligation to the workers that help them make massive profits."
Ross Hibble, a casual employee who earned $27,000 last financial year, said he is struggling to pay bills as his roster varies frequently. The National Union of Workers said workers are fed up after struggling with under-employment for years.
"Sometimes I get a text when I'm driving into work saying my shift has been cancelled, and if I go to work I won't be paid."
Mr Hibble joined his colleagues to protest in hopes that the supermarket chain will create more full-time jobs.
"There is a whole part of our community that is unable to secure housing, build lives, educate their children and have good middle-class lifestyles and lifestyle choices," he said.
Coles has since been forced to look at alternative suppliers to ensure their chains are not affected.
"This is placing millions of dollars of fresh food grown and produced by Victorian farmers at risk of rotting and spoilage," a company spokesperson said.
"Unlawful picketing of the contingency sites unrelated to the Polar Fresh dispute threatens to disrupt the distribution of fresh food for customers in Victoria and will harm other businesses unrelated to the negotiations."
What do you think should be done?
Comments