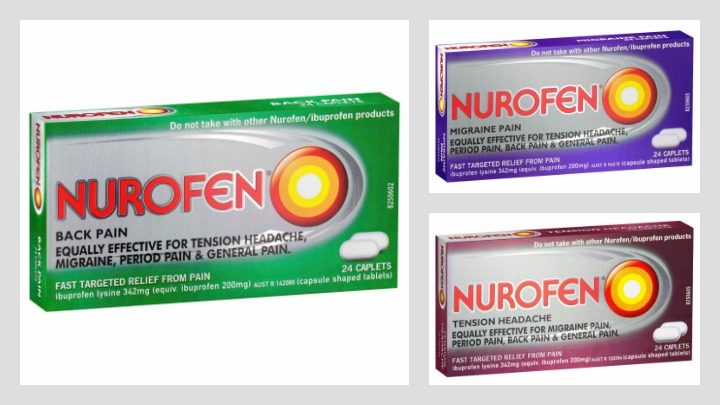 The Australian Competition and Consumer Commission has revealed it is unhappy with the initial fine and will appeal the decision to send a stern message to Reckitt Benckiser for misleading users of its products.
A court found in December 2015 that Reckitt Benckiser, the company that makes Nurofen and the range of specific pain medication, had misled and deceived consumers by falsely claiming the Nurofen Specific Pain products were formulated to treat particular types of pain.
Nurofen maker's A$1.7m fine should be A$6m says @acccgovau #painmed #ibuprofen https://t.co/lO4iTvWkd8 pic.twitter.com/DSWdZ6Lx7y

— ANZCA (@ANZCA) May 23, 2016
The products — which proclaimed to treat back pain, tension headaches or migraines, and period pain — all contained the same active ingredient, 342 milligrams of ibuprofen lysine.
The company was fined $1.7 million in April.
However, the ACCC says a more appropriate penalty would be closer to $6 million if a strong message was to be send to the company, who profited greatly from sales of those products.
ACCC chairman Rod Sims says a fine of $1.7 million "does not act as an adequate deterrent and might be viewed as simply a cost of doing business" when imposed on a company the size of Reckitt Benckiser.
"This is particularly the case when the judge found that Reckitt Benckiser had made many millions in profits from sales of 5.9 million units of these products at around 8,500 outlets during the relevant period," Sims says.
The company said a fine of $1.1 million was appropriate, but justice James Edelman said at the time the penalty would have been far greater if not for a few factors, including that the ACCC did not argue the intentional and reckless nature of the company's conduct.
A notice of appeal against the file has now been filed by the ACCC.
"Nurofen acknowledges that the ACCC has lodged an appeal in relation to the penalty decision of the Federal Court. Nurofen is carefully considering the appeal with its legal advisors, a spokesperson for the company told Starts at 60.
Did you use the Nurofen Specific Pain products? Do you believe a greater fine is required?
Comments