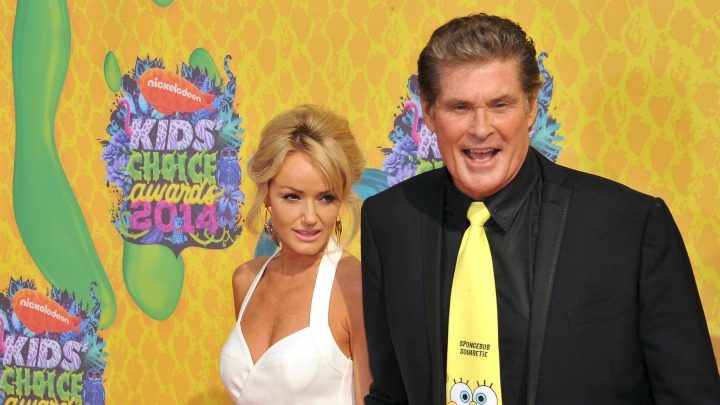 It's third time lucky for David Hasselhoff, who has announced his engagement to girlfriend of five years, Hayley Roberts.
The 63-year-old actor told Hello! magazine that the 27-year age gap between him and Roberts was a serious consideration before deciding to propose.
"I had a saying, 'You don't get married because you want to live with someone, you get married because you can't live without them'," the Hoff says.
He says he held off getting down on one knee because he thought he was too old for his 36-year-old partner.
Congratulations @DavidHasselhoff ! https://t.co/BNGHdiXwY2 pic.twitter.com/JtiF88F112

— HELLO! (@hellomag) May 3, 2016
The Knight Rider has been married twice before, and it would appear Hasselhoff has an interest in younger ladies.
From 1984 to 1989 he was married to Catherine Hickland who was four years younger, and from 1989 to 2006 The Hoff was married to Pamela Bach who was 11 years his junior and has two children with her.
The former star of hit television show Baywatch met his fiancee while filming Britain's Got Talent in 2011.
Roberts is a part-time model and says she's not worried about the difference in years between her and her future hubby.
"I don't what to miss out on being with someone I love because of what might happen down the line," Roberts says.
Have you ever worried about an age difference in any of your relationships?
Comments