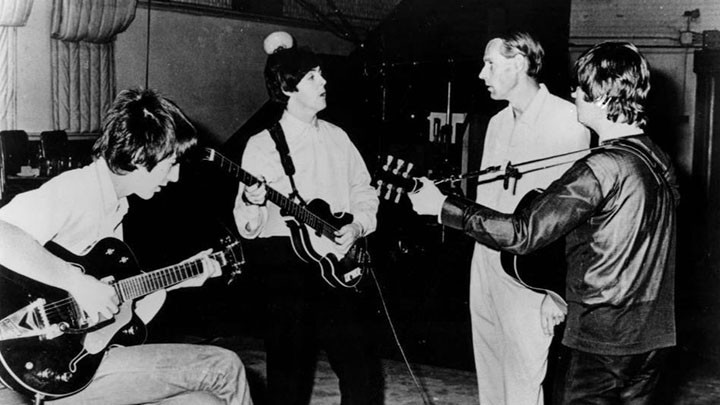 There was rumours this morning and tonight it has been confirmed by Beatles' drummer Ringo Starr that their composer and producer, Sir George Martin has died at the age of 90.  Martin is said to have been the guiding light behind the creativity of The Beatles and has, for much of his life been referred to as "the fifth Beatle".  He is spoken of with much love and adoration by the remaining Beatles.
We'd like to say he was the greatest music producer in history and the man who trusted the Beatles enough to bring out their best creative impulses, create new sounds and mentor them to the band they became.
Sir George discovered the Beatles in 1962, when the band was trying to find a way to reach the music scene in its earliest days, taking them under his wind and producing their works.  The story told by many tells the tale of the band facing knock backs of significance before meeting him and being helped to produce their first big hit in Please Please Me which he drove them to speed up into a rock and roll hit.  It went to number one, their first ever.
"I could well understand that people had turned it down. But there was an unusual quality of sound, a certain roughness that I hadn't encountered before." 
Sir George Martin is one of the greatest producers in music history.  With a 60 year career
Martin was the producer behind tens of number ones, and has perpetuated his career over more than 60 active years, starting in an era pre-technology and evolving with music into the modern era.
He contributed not just in production but also musically to the band, and assisted with their arrangements.  He is the man who pushed McCartney to play a string quartet in Yesterday, and brought the strings into Eleanor Rigby.  He indulged the band's most romantic ideas, and gave them the technical knowledge they needed to bring their music to life.
As the BBC says today, "without George Martin, the Beatles would have been a very different band".
In recognition of his services to the music industry and popular culture, he was made a Knight Bachelor in 1996.
Ringo Starr tweeted today upon learning the loss of his bandmate.
"God bless George Martin peace and love to Judy and his family love Ringo and Barbara George will be missed xxx "
Sean Lennon, John Lennon's son also reacted to Martin's death on Twitter by saying: "I'm so gutted I don't have many words".
What is your favourite Beatles song.  Do you find it interesting to think that without this man, it may never have become what it is to you today?
Comments