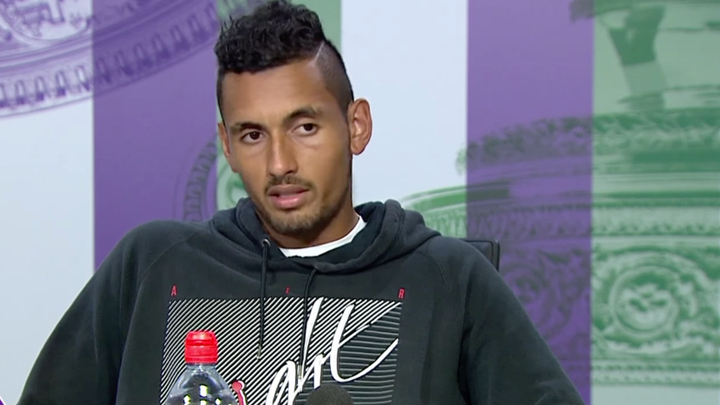 Australia's new bad boy of tennis Nick Kyrgios is at it again.  This time, he has gotten into a heated argument with a reporter after his second round victory of the Wimbledon tournament.
After defeating Dustin Brown to progress to the third round, Kyrgios was asked by a report in the post match interview if he thought his on-court antics were distracting to other players.  The reporter was referring to a warning issued to Kyrgios at the start of the third set by umpire Jake Garner.  Kyrgios told Garner mid game that he was doing a "horrible job".
"What did I say to the umpire today?" Kyrgios asked the reporter.  When reminded of what he said Kyrgios shot back "Is that bad language? Have you never said a swear word before? Have you never said a swear word in your life?  Can you answer my question?"
The reporter tried to put the question back to Kyrgios, but the Australian 15th seed continued ""What did I say to the umpire today? So how is that going to affect another player by saying 'horrendous job'?"
Kyrgios is no stranger to controversy as he was accused of "tanking" Wimbledon last year, banned from the ATP after an incident with Stan Wawrinka in Montreal, and was fined $3,380 for unsportsmanlike conduct in his opening match at Wimbledon this year.  Of course, Kyrgios also made headlines earlier this year when he was openly critical of the Australian Olympic Committee over his feelings of the Rio games.
While many believe a fiery attitude is "part of the game" some wonder if he is bad for the sport.  Dustin Brown, whom Kyrgios defeated, came to his defence saying "I'm pretty sure everyone that knows Nick, knows Nick is a great tennis player," and concluding with "I'm pretty sure in a few years, he will also have that sorted and going to be even better."
Do you think that Kyrgios is bad for the sport?  Do you think he makes it exciting like McEnroe?
Comments