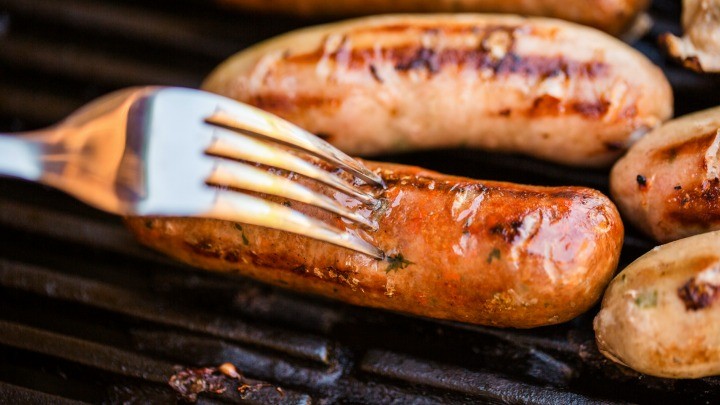 A taste test has revealed the best Aussie supermarket snags, with some surprising results! Did your favourite sausages make the winner's list?
Good Food magazine visited regular grocery stores, and bought a variety of 36 different sausages. Together, the sausages cost a total of $300.
"For our experiment, we visited a typical suburban Coles supermarket, a Woolworths, an Aldi and two local IGAs", said Angus Holland and Nina Rousseau from Good Food.
"A gun team of restaurant critics, editors, and food and drink writers put their palates on the line", Good Food added.
The judges included food writer Peter Barrett, restaurant critic Gemima Cody, food columnist Richard Cornish, beverages expert Fred Siggins and sausage producer Mark Stehle, amongst others.
The testers were asked to taste nine sausages each, without knowing where the meat products were bought from. Bread, sauces and extra condiments were not allowed.
Instead, the testers were asked to focus on appearance, aroma, casing, texture, meat to fat ratio and overall sausage flavour.
Notes were then compared, and a shortlist was compiled. The next round involved cooking each shortlisted sausage, to see which ones were still juicy and retained flavour.
Winners ranked like this, with Aldi making the most appearances in the Top 10 wieners:
1. The All Natural Sausage Company, Italian Sausage (Coles) $7
2. Created With Jamie, Italian-Style Veal and Pork Sausages (Woolworths) $8
3. Outback Spirit, Pork Sausages with Kakadu Plum and Lemon Aspen (Coles) $5
4. Brannan's Butchery, Pork and Apple Cider Gourmet Sausages (Aldi) $6.50
5. Brannan's Butchery, Lamb and Rosemary Gourmet Sausages (Aldi) $6.50
6. Coles Finest, RSPCA Approved Chicken Sausages (Coles) $7
7. Coles Finest, Australian Angus Beef with Garlic and Parsley (Coles) $7
8. Coles Sausages, Beef, Herb and Garlic (Coles) $4.50
9. Brannan's Butchery, Thin sausages (Aldi) $3.70
10. Brannan's Butchery, Juicy Pork Sausages (Aldi) $3.70
Are your favourite snags on this list? Which supermarket do you buy sausages from? Or do you prefer to shop at your local butcher?
Comments