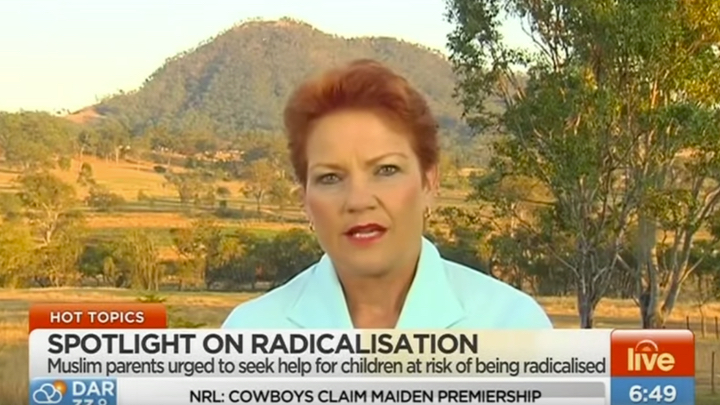 There was never any doubt that when Pauline Hanson re-entered the public eye there was going to be a media storm to cover it. However, one channel that was key to giving her the exposure she needed to win the election has been exposed for paying her for the privilege.
The executive producer of Channel Seven's flagship show Sunrise has admitted that they paid Pauline as a regular correspondent. Michael Pell, who is the Sunrise EP told news.com.au "Pauline is one of a number of paid regular commentators on Sunrise" continued that she never appeared alone and talked about a wide range of topics not just her political aspirations.
While Michael Pell doesn't seem to see an issue with the paid appearances, Pauline herself took great umbrage with an interviewer from the website Buzzfeed when she was asked about her appearances. Pauline told the reporter "I'm not saying whether I am (being paid) or not. I don't see it is any of your or the public's business whether I am paid or not. There's a lot of appearances that I make on TV I can tell you, I don't get paid." Pauline concluded with saying "So I'm not answering your question because it's none of your business and it's no one's concern about any arrangements that I may have, I'll have you know I am possibly not getting paid for it, but then again I'll state, it's none of your business."
Some have said that Pauline's appearances were only to generate ratings based on the controversial statements she was bound to make. Particular attention has been paid to her appearances on both Sunrise and Today after the horrible Paris terrorist attacks. Many taking offence are her being used as an expert voice when she is not an expert on terrorism.
During the election that saw Pauline's One Nation party claim a number of seat have been credited in part to the regular appearances on the Sunrise program. The fact that she was paid to promote her election bid while picking up a cheque has left a bad taste in the mouths of many on social media.
Seriously @Sunriseon7 !!!????? What total BS. As a regular viewer not only will I not be watching Sunrise… https://t.co/TCPVD6uaHK

— David Baggs (@dbaggs01) July 5, 2016
So @sunriseon7 admits paying Pauline Hanson for appearances. @kochie_online @sam_armytage quality program you're on. https://t.co/pgHYl6oF9U

— Aamer Rahman (@aamer_rahman) July 5, 2016
What do you think? Do you believe that Sunrise acted ethically pay Pauline for her appearances? Do you think that the critics are only looking to excuses to be angry with her?
Comments