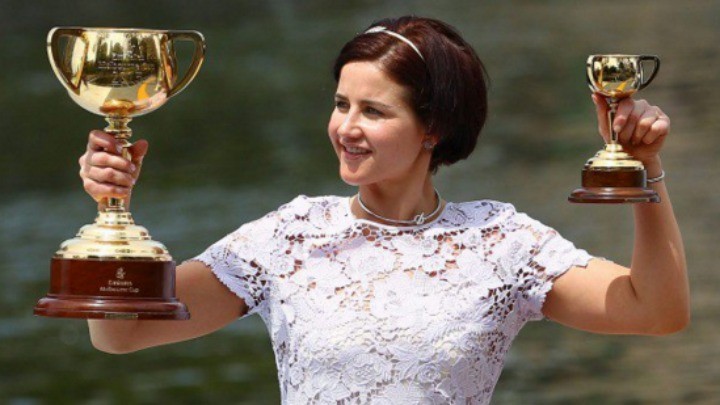 This is unheard of and utterly disgraceful: just one month after her historic Melbourne Cup win, champion jockey Michelle Payne has been overlooked at a prestigious racing meet.
The sporting star attended an event at the Australian Turf Club, where expressions of interest between riders, horse owners and their trainers are exchanged for the upcoming racing season.
Where Melbourne Cup winners are traditionally flooded with offers, Michelle was not approached by a single owner or trainer. It's an indictment that many people are slamming as sexist.
"Shows how cliquey and subjective the sport is," said one Facebook user Simone de Bry. While another user, Michael Downes, warned that Michelle had "bad mouthed the boys club."
Indeed, immediately after her Melbourne Cup victory, Michelle made damning comments about horse racing.  She labelled it "such a chauvinistic sport."
"I know some of the owners were keen to kick me off," she said about her winning horse, Prince of Penzance.
"I just wanted to say to everyone else they can get stuffed, because they think women aren't strong enough, but we just beat the world," she added at the time.
However, Michelle and her team are downplaying this latest snub.
"Knowing the industry, it's no surprise. The fields are small and I guess the trainers wanted use their regular riders," said Michelle's manager, Phillip Roost.
Talking about the racing meet itself, Michelle has added, "unfortunately I wasn't able to get a ride on the day, but it (was) fantastic to be able to come out and mingle with the public."
What do you think? Has Michelle 'upset the boys club' with her honest comments? Has Michelle been slighted by members of the Australian Turf Club, because she is a woman?
Comments