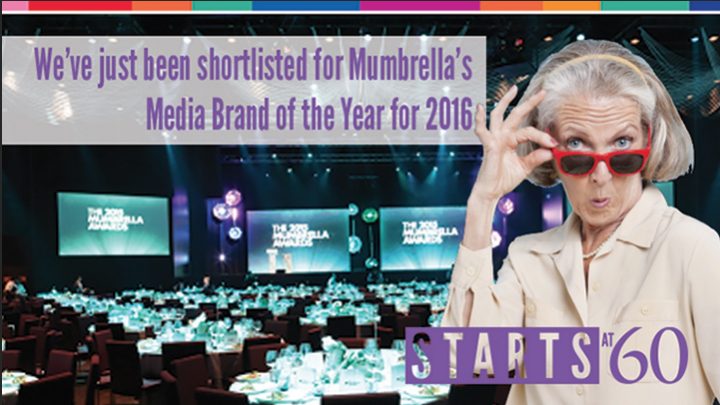 Morning all. We got some exciting news yesterday that should make you feel a little bit important, noticed and special. It sure does make us feel special! Our little baby boomer website Starts at 60 was named by Mumbrella (the media industry's core internet magazine title) on the shortlist for their Media Brand of the Year Award, a highly coveted position in the media industry.
We're a little bit chuffed and today we want to stop and celebrate how hard our team works for you and what a different and special place we are working to create.
A diverse array of publications made the shortlist for Mumbrella's Media Brand of the Year (Australia), with last year's winner Pedestrian.TV (a youth brand) the only survivor from that shortlist. Youth brand Vice and baby boomer brand Starts at 60 face off against broadcaster SBS and sporting brand Cricket Australia Digital.
The awards are to be held on the 30th of June – we'll be holding our breath 'til then! It is such a privilege to be on this list.
Please give our team of 18 amazing people a huge round of applause!  
Rebecca XX
Starts at 60 reaches approximately 1 million baby boomers and beyond across Australia and New Zealand, and drives reach of up to 10 million people per week on social media. We're in an exciting phase and we love that you are here with us on our journey. It has been just 3 years since we welcomed our first community member!
Comments