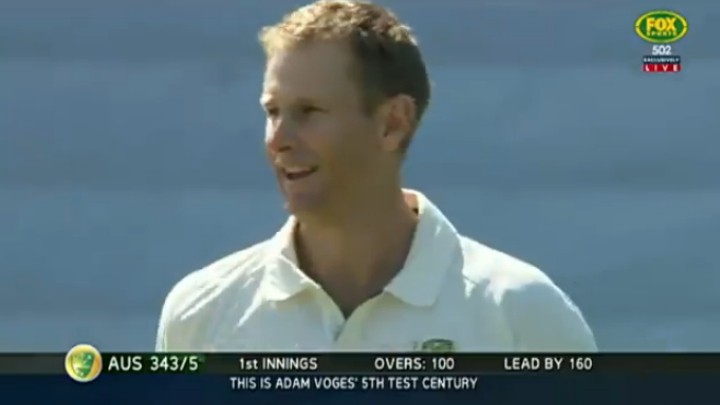 You may have heard of him, but many may not. Either way, Adam Voges is a name you're about to hear a little more of, considering he's just broken two significant, seemingly untouchable records held by cricket royalty, Sir Donald Bradman and Sachin Tendulkar.
Yesterday, against the Kiwis, the 36-year old West Australian finished the day on an unbeaten 176 (not out) and in doing so lifted his test batting average to 100.33, knocking the bails off Bradman's long held record of 99.94. Whilst others may have a higher average, (like current in-form batsman Usman Khawaja – 128.8 from just 5 test matches), Voges' average has been built over 19 innings from 14 tests. In other words, this guy is good! He only made his test debut earlier in 2015.
Sure, Bradman's average was sustained for 80 innings from 52 matches, but in the modern game this feat is, well, quite unbelievable…particularly for a guy considered to be in the twilight of his career.
Furthermore, in the process of smashing his way to 176 not out, he also dismantled a 12 year old record held by India's Sachin Tendulkar – 500 runs without being dismissed.  Yes that's right, 500 runs not out! His innings yesterday coupled with unbeaten innings of 269 and 106 against the West Indies in December, saw him race passed Tendulkar's unbeaten 497 runs from three innings in 2004.
So how great does this make him? Statistics don't lie…or do they? Certainly cricket, or the commentary built around it, is awash with statistics. Bill Lawry, Richie Benaud and Tony Gregg would have been nothing without them. How else can one talk their way through a five day test match with coming up with statistics like 'the 5th highest 4th wicket stand between Australia and Bangladesh at the Adelaide Oval on a Thursday night when meat pies were on special!
Do these achievements put Voges on the same pedestal as Bradman and Tendulkar? After all Bradman knocked off 29 centuries, whilst Voges has managed 5 thus far. If not, what else does he have to do? How long does he have to hold that average for for him to be considered equal alongside these great of the game? Does he keep going to what else is left in the tank, or does he retire now and cement a place in cricketing folklore?
Irrespective, his achievements are significant, particularly in the modern game.
We'll certainly take a baggy green cap off in your name Adam. Well done. What a terrific achievement.
 Would you consider Voges to be up alongside the greats of Bradman and Tendulkar or are they untouchable?
The next Don? @acvoges earns comparisons to Sir Bradman after Test average crosses 100 https://t.co/noqlV0431w pic.twitter.com/P6nZyWoZGL

— HT Sports (@HTSportsNews) February 13, 2016
.@acvoges now has a test average of 100.33, a little ahead of the great Don Bradman. pic.twitter.com/uo86ZGfeeJ — ICC (@ICC) February 13, 2016
Comments