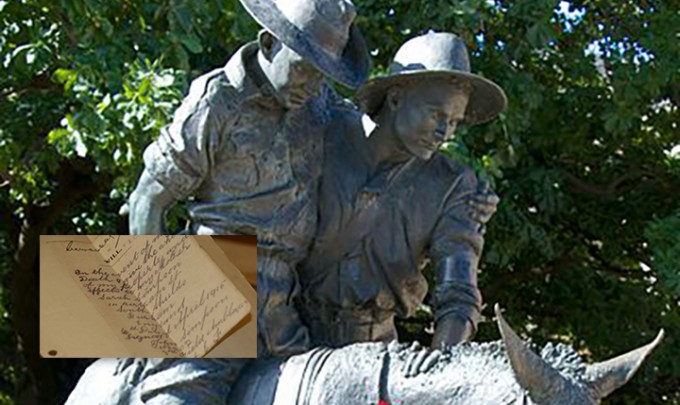 On ANZAC weekend, we all stop to consider how it might have been for our loved ones, but few could imagine the terror of writing your own will on the battlefield, signing away the few object, very far away to people who would much rather have you return than have your "stuff".
Today it has been announced that the will of a Gallipoli hero, Private John Simpson Kirkpatrick was recently discovered by the State Records Office and will be displayed for coming weeks to mark 2016 ANZAC Day.
Private John Simpson became famous for his spirit and has been iconic in the ANZAC movement, always discussed for the role he and his donkey played in transporting wounded Australian and New Zealand soldiers from Gallipoli's frontline to the safety of our troops rear.  His influential year of 1915 has left a mark on Australia and he has been forever remembered so the ability to see his will, and the sentiment it contains is very special for our nation.
The will was written on April 6, not long before his death as an ANZAC, while training in Egypt.
"In the event of my death, I give the whole of my property and effects to my mother Sarah Simpson," he wrote.
The probate file that has been reported found with the will showed that his personal estate was worth 37 pounds and 13 shillings which is equivalent to about $4,500 today, according to the SRO.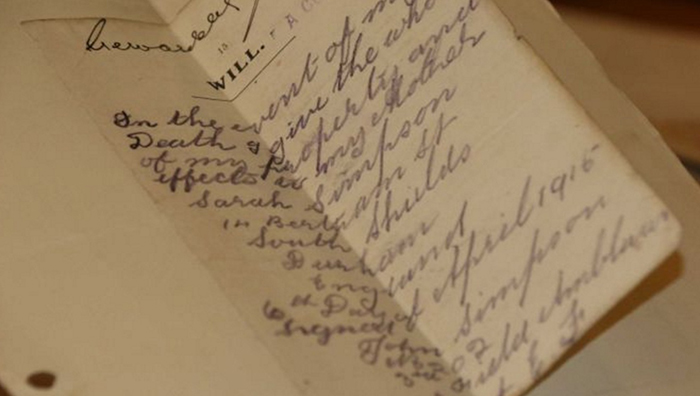 The ABC interviewed WA State archivist Cathrin Cassarchis who said the collection of wills depicted men who had not yet really embarked on their lives.
"They are very often quite simple wills leaving very modest amounts to family members," she said.
"Clearly, they were expecting the engagement at Gallipoli to be difficult because obviously a number of soldiers were handed sheets of paper on which to record their wills.
"It's a very personal part of our history … the records such as wills not only tell individual stories but they paint a picture of what life was like for the young men on the front at this time."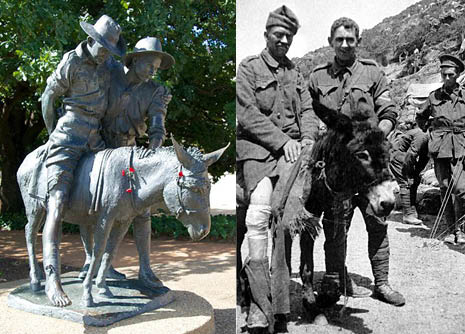 The legend of Simpson's efforts cut deep in Australian ANZAC history.  He landed on the Gallipoli Peninsula on 25 April 1915 as part of the ANZAC forces. In the early hours of the following day, as he was bearing a wounded comrade on his shoulders, he spotted a donkey and quickly began making use of it to carry his fellow soldiers. Simpson would sing and whistle, seeming to ignore the bullets flying through the air, while he tended to his comrades.
He used at least four different donkeys, known as "Duffy No. 1", "Duffy No. 2", "Murphy", "Queen Elizabeth" and "Abdul" at Gallipoli; some of the donkeys were killed and/or wounded in action. He and the donkeys soon became a familiar sight to the Anzacs, many of whom knew Simpson by the nicknames such as "Scotty" (in reference to his ancestry) and "Simmy". Simpson himself was also sometimes referred to as "Murphy". Other ANZAC stretcher bearers began to emulate Simpson's use of the donkeys.
General John Monash wrote of Simpson: "Private Simpson and his little beast earned the admiration of everyone at the upper end of the valley. They worked all day and night throughout the whole period since the landing, and the help rendered to the wounded was invaluable. Simpson knew no fear and moved unconcernedly amid shrapnel and rifle fire, steadily carrying out his self-imposed task day by day, and he frequently earned the applause of the personnel for his many fearless rescues of wounded men from areas subject to rifle and shrapnel fire."
Other contemporary accounts of Simpson at Gallipoli speak of his bravery and invaluable service in bringing wounded down from the heights above Anzac Cove through Shrapnel and Monash gullies. However, his donkey service spared him the even more dangerous and arduous work of hauling seriously wounded men back from the front lines on a stretcher.
On 19 May 1915, during the Third attack on Anzac Cove, Simpson was struck by machine gun fire and died.   He was buried at the Beach Cemetery.
A large selection of more than 3600 wills are on display in Western Australia this ANZAC Day.  The names of those on show  are listed here.
Comments