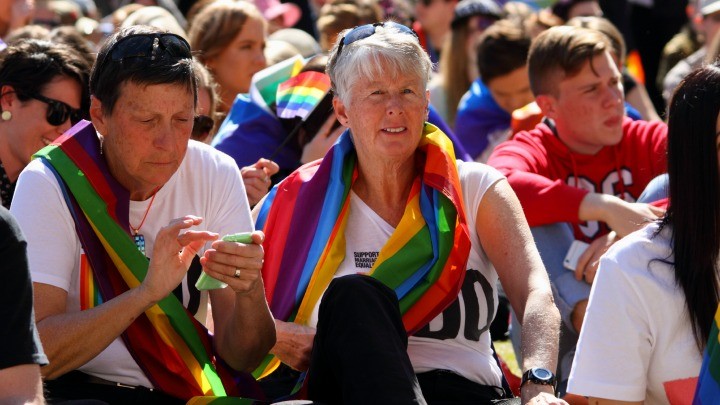 Tasmania allows same-sex couples to formally register their relationships, the ACT has a civil partnership scheme, and this week Queensland restored civil partnership ceremonies for same-sex couples. Yet the issue of same-sex marriage seems to be dragging its feet.
"Let's hope these laws are here to stay," said Queensland Attorney-General Yvette D'ath, after state parliament voted on civil partnerships for the third time in recent years.
"Whether this is about changes in the laws, or whether members are responding to shifts in public attitudes, perhaps today can be the line in the sand that demonstrates that Queensland has finally moved forward," Ms D'ath added.
When Malcolm Turnbull became Prime Minister, many people believed gay marriage was just around the corner for all Australians. "Mr Turnbull has long been seen as a champion of marriage equality," wrote Leader of the Opposition Bill Shorten. 
"Sadly now, in one of his first acts as the new Prime Minister, Mr Turnbull has renounced his support for marriage equality legislation, abandoned his commitment to a free vote in the Parliament and embraced Tony Abbott's plan for a plebiscite," Shorten added.
The Prime Minister has described a plebiscite regarding same-sex marriage as a "people's vote," but will not commit to one until after the next election: "(A plebiscite) I grant you is more expensive, but nonetheless, it is a very legitimate and democratic way of dealing with (the same-sex marriage debate,)" Mr Turnbull said during Question Time recently.  
It certainly seems like the issue is stalling. Though legislation on a state level is some development, supporters of gay marriage are calling for nationwide action and equal rights.
"Prejudice towards sexuality remains more acceptable than racial prejudice," lobby group Australian Marriage Equality surmised yesterday. 
What do you think? Is legislation relating to same-sex marriage sufficient on a state level? Or does Australia need to be embrace nationwide marriage equality?  
Comments