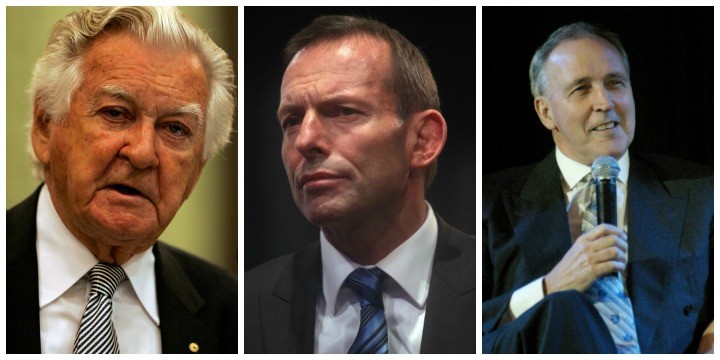 The recent royal commission into trade unions has attracted the attention of several past Prime Ministers. Former Labor heavyweights Bob Hawke and Paul Keating have offered their thoughts, and there's even been commentary from deposed leader Tony Abbott. However, some Aussie voters would like to see these former PMs get 'back in their box'.
Bob Hawke was responsible for deregistering the Builders Labourers Federation back in 1986. Now he's calling for Bill Shorten to stamp out union corruption too. "Bill is coming out now and saying more should be done", Mr Hawke has told The Australian recently.
"The unions need to clean up their act and get their house in order", Mr Hawke also said. "It just is appalling. I mean, I wouldn't tolerate it. You know what I did with the Builders Labourers Federation – I would throw them out".
Paul Keating has taken aim at Labor too, for what he sees as undue union influences. Mr Keating told The Australian, "the preponderance of trade union weight in the Labor Party's councils is now too large, given organised labour's influence in the current and contemporary labour market".
"The party should be broader, freer, and whatever influence organised labour has should be such as to genuinely represent its weight in the broader economy, but not to distort the (party's) processes".
Meanwhile, Starts At Sixty recently brought you Tony Abbott's thoughts on the royal commission into trade unions. His desire for self-recognition caught the ire of certain readers.
"All I'm interested in ensuring is that the good work of the Abbott government is acknowledged, the fine work of commissioner Dyson Heydon is respected and we have an appropriate national response to the commission's report", Mr Abbott said at the time.
All this political commentary has got some Australian voters rolling their eyes though. On Tony Abbott, one Facebook user wrote, "the memory of the 'Abbott government' will be drowned by the memory of the ex-PM refusing to accept the decision of his party and gracefully step back, continually spouting his philosophies and opinions, in many cases in opposition to the current government".
Regarding Bob Hawke, a second Facebook user wrote, "who gives a flying fig what Hawke thinks? He's still draining the Australian purse even though he's not in politics anymore". Whilst a third person added, "all these former PMs seem to think they have all the answers… Back in your box, Bob!"
There were people who defended these former PMs though. As one woman wrote online, "Kevin Rudd and Julia Gillard are frequently heard speaking their minds, rightly or wrongly. I don't agree that (those) opinions are any less valid… as is mine less valid than anyone else's". 
Where are your thoughts – do former Prime Ministers have a right to share their opinions? Or should they maintain a political backseat?
Comments