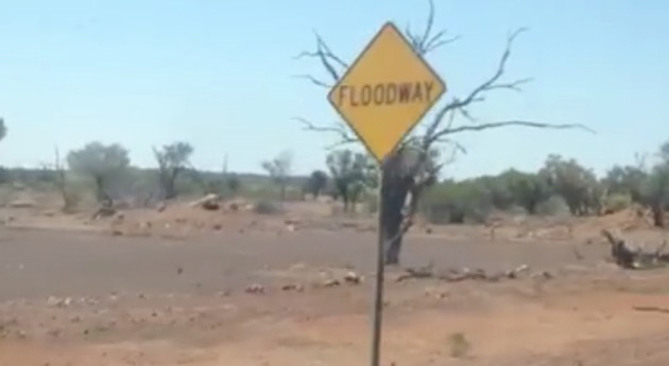 The Boulia, Carpentaria and Quilpie Shires in remote Queensland have been lobbying hard for support from the Government for months having been denied assistance under the community programs offered by the Government but this week.  It has angered many for months, and finally, this week, Barnaby Joyce and Warren Truss have used their discretion to offer these areas the same eligibility for the Federal Government's Drought Communities Program that has been offered to many surrounding areas.
The Boulia and Carpentaria Shires have qualified this week because of their rainfall circumstances, but Quilpie has had to be let into the program on a discretionary basis.
"Quilpie's rainfall figures do not support the application on the basis of the one-in-20-year rainfall deficiency, but everyone who visits Quilpie comes back with the same report — that it is as bad as the neighbouring shires," said Warren Truss.
A local farmer in the area posted this video on Facebook in late October showing the devastation in the region, in an attempt to raise the eyes of Australians to the plight of the farmers who are suffering so terribly.  It seems that the community's ability to make a noise has had them heard, but today we have to ask…  should it really be this hard for our farmers to access support when there is so clearly a problem that needs assistance?
The ABC is reporting that the three shires can apply for up to $1.5 million for local infrastructure projects, to generate jobs and create greater economic stability.
Hi Sunrise team. I'm just a small town guy in western Queensland Quilpie to be precise, but all is not well out here atm. We're all in an outlandish drought that threatens to cripple Australia to its knees. Just one little scenario for you to ponder; the live cattle exports to Chana I think off memory went through another critical stage a few days ago. I ask you this, where will the cattle come from? I would like to share a video I made just to give you a little idea of what it's like out here and how the politicians make decisions without good reason. Just to Add Quilpie and Bullia Councils were for a third time knocked back for drought funding this week.

Posted by Ethan Crumblin on Friday, October 23, 2015
"[Quilpie] is entirely surrounded by shires that are declared for assistance under the drought communities program and we felt it was reasonable in those circumstances to exercise discretion and grant this assistance to Quilpie," Mr Truss said.
It seems unfair that the Government put the community in this position when drought is causing so much hardship.
Mayor of Quilpie, Stuart Mackenzie spoke to the media of the process as long, arduous and disappointing, and said he was relieved to finally have eligibility approved.
"It has been extremely frustrating, because we were told in April that this money was coming and we had projects ready to go in July," Mr Mackenzie said.
"Then we found out at the beginning of July that we weren't eligible and our first feeling was it is just a mistake, [we thought] 'obviously we will send in some rainfall figures and it will all be fixed up'.
"Four months went by and then we got the notification that we still weren't eligible and that was really hard to take."
Share your thoughts on how you think we should be supporting our farmers in drought stricken regions today.
Comments