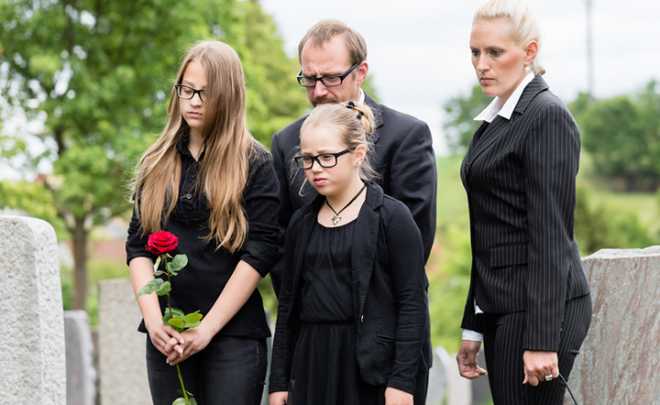 We lost our Nanna this week, my husband's grandmother and "Great Nanna" to my children. At 98 years old she has lived a long life filled to the brim with stories, family and love, and her body was no longer helping her, so whilst it is sad for us, it is probably the best thing for her to be up there in heaven with so many of those she loves. But this week we are confronted with the decision of whether our not-too-young children, her great-grandchildren should attend her funeral.
My own grandparents (long in heaven) always said to me that children were not appropriate at funerals. That weeping young things who didn't know why they were weeping were distasteful and that watching others cry could be confronting for them too.
My grandparents were very traditional, respect-oriented people who wanted dignity and grace at such public events. Twenty years on from these types of learnings I now wonder whether we should be considering the opposite for the sake of my children, my husband and his parents.
My children are a responsible bunch, aged 12, 10 and 7, and given they didn't know their Great-Nanna as the strapping young and healthy woman I have known for the earlier of the 20 years I knew her, nor the much healthier woman from the decades before, part of me selfishly for them wants them to be able to come along and see the wonderful stories that will be told about her life, and to celebrate her. I want them to feel the enormity of the life she lived and the person she was before they knew her. "Great Nanna" as they know her is the last of her generation on the Wilson side so there is a lot to say. We're lucky to have had her as long as we have and I want them to understand that. Will they ever get such an opportunity again… no they won't.
I also want them to be there as the happy-lively faces of the fourth generation of the family that until Friday night she was the matriarch of.  I think it might make a wonderful contribution to be there as that.
But I wonder if that is selfish? So today, for a let's talk would you tell me what you would do in such a situation?
Would you want your grandchildren at your mother's funeral, for the cheer, the memories, and the learnings they could have or do you think I should send them to school and go without them?
Comments