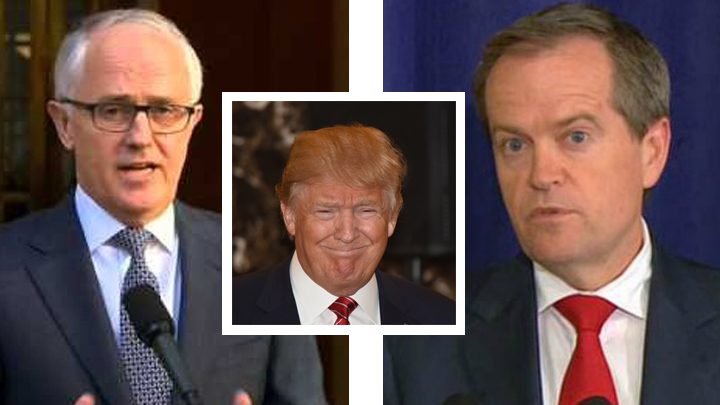 What do our prospective leaders really think about Trump?
Bill Shorten has been decidedly blunt on the campaign trail when it comes to Donald Trump – but Malcolm Turnbull has suggested these words could get Australia into hot water.
"I got in trouble on the campaign trail for saying what I think," shorten said on Darwin's Hot 100 FM.
"I think Donald Trump's views are just barking mad on some issues".
When asked if he had a plan for dealing with a Trump presidency, the Opposition Leader had some similarly colourful phrasing:
"I once got a letter from a constituent that said, 'What plans do you have if alien life make contact with Earth?'"
"They're sort of scenarios you hope don't emerge."
The "just barking mad" comment has gotten a huge response from commentators and fellow politicians – including the PM – but Shorten has stood by his opinion, saying he was just being "straight"
"Some people had a crack and said, 'You're not allowed to say that'. I thought, well, John Howard did — I just happen to agree."
Now Malcolm Turnbull has stepped in to say these words could be "against the national interest".
"You can imagine how Australians would feel if an American president were to describe one of our prime ministerial aspirants as barking mad. You can imagine the ill will and resentment that would create in Australia," he said.
"The Australian-American relationship is of vital importance, in every respect … What that means is that a PM, in this case myself, or those who seek to be PM, Mr Shorten for example, should be very careful about the comments they make about American politics."
"The choice of president is Americans' to make. It is their decision to make it and they should – that should be respected," he said."
Shorten, however, is somewhat less restrained with his thoughts.
"Let's not exaggerate," he said. "Mr Trump's comments are truly remarkable. And if you think that someone who says that Mexicans are killers and rapists, if you think that I can't have an opinion about someone that says, about John McCain, that he's a war hero but Mr Trump prefers war heroes who aren't captured."
"I think the views he has are not views which sit comfortable with the mainstream of Australian opinion. I think that he represents a turn towards politics which is going to be destabilising for America.
"I don't believe in a divisive nation. I don't believe in dividing the nation. I don't believe in setting up one group of people against another group of people. I have a different world view. But I don't imagine that if I'm prime minister that I'm going to agree with every political view of every world leader I meet, that would be impossible."
How diplomatic should our politicians be about other potential leaders? Who do you feel is in the right on this issue: Turnbull or Shorten? And how would you feel about a Trump presidency?
Comments