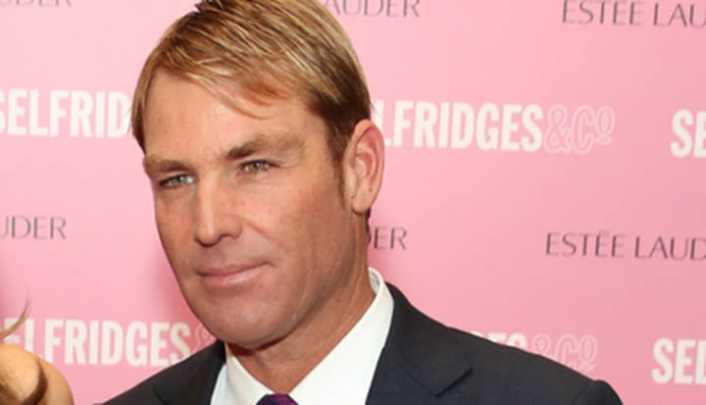 If you had donated your hard-earned cash to a charity that pledged to care for sick and under privileged children, then found out that the average amount that actually reached institutions that needed the money was 16 cents in the dollar would you feel a little ripped off?
The Sunday Age is reporting that Shane Warne's charitable foundation is under investigation by the consumer watchdog over concerns about financial and reporting practices.
They have revealed "The Shane Warne Foundation raised $1.8 million in three years but donated an average of only 16 cents of every dollar to institutions that care for sick and underprivileged children… instead spending the majority of its funds from 2011 to 2013 staging glitzy celebrity events and employing a member of the cricketing great's family."
It is alleged that the charity has only dispersed $54,600 to its beneficiaries, but that Warnie's brother Jason Warne has  drew a salary of nearly $80,000 in the same period.  The foundation posted steep financial losses, spending instead on food, alcohol, prizes and promotional products for events.
The website of the organisation, called The Shane Warne Foundation says:
"Our mission is to enrich the lives of seriously ill and under privileged children and teenagers in Australia.  We are an umbrella organisation, meaning we raise money through the events we run, donations we receive, and corporate sponsorship, and distribute those funds to a diverse cross section of charities and individuals who work hands on in these areas.  We do this as it relieves the constant burden of fund raising faced by these great organizations and people, so they can effectively handle the day to day needs of the brave children they support.  Since our inception in 2004, we have raised over $7 million, and have made over 120 individual distributions to various children's charities and individual families in need. "
The organisation has a very high profile board, of Andrew Bassat, founder of Seek.com, Glenn Robbins of TV fame, Eddie McGuire, former Channel 9 head and a number of others.  It was founded in conjunction with James Packer and Lloyd Williams.
The 2011-13 financial documents which The Age compelled for release under an obscure provision of Victoria's Fundraising Act show the foundation donated just $281,000 to charity despite raising $1.8 million over that time. Expenses consumed more than $1.2 million.
It means only 16 cents of every dollar raised actually reached one of the foundation's nominated charities over those three years.
It is interesting though that when entered into the Consumer Affairs Victoria website, the information on the Shane Warne Foundation says it returns 80 percent of funds to beneficiaries.
The same website reports that in the last year the McGrath Foundation returned 70 percent of monies raised to place breast care nurses in communities across Australia as well as increasing breast awareness in young women.  And the Surf Lifesaving Foundation returned 75 percent while the Red Cross returned 73 percent.
But if these claims by The Sunday Age are correct and they have investigated them properly, then it seems charity begins at home for the Warnes.  If this is indeed the truth, does it discourage you from donating to "high profile" charitable organisations?  Do you do your research before donating money to causes?
The Fundraising Industry of Australia says we only have ourselves to blame and we should look to give more directly to beneficiary organisations rather than fundraisers.  "If you want to make a difference, don't wait to be asked and don't wait for the charity to spend money on fundraising. Give, and give as generously as you can."
Comments