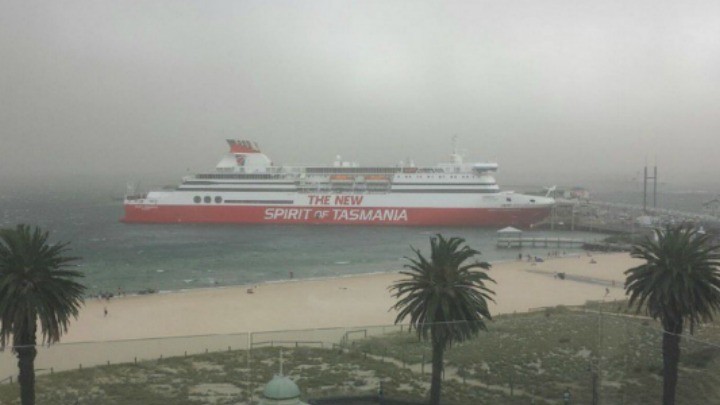 No one could have predicted the Victorian heatwave to end with this – at sunset last night, the Port of Melbourne was hit by a storm that knocked the Spirit of Tasmania II free from its moorings with passengers on board.
Amazing vision has emerged of the Spirit of Tasmania breaking free from its pier during Melbourne storms. #Today9 https://t.co/xKUQWUSfon

— The Today Show (@TheTodayShow) January 13, 2016
The ship drifted as close as 80 metres to the shore where beachgoers watched in amazement before being hurriedly evacuated.
Spirit of Tasmania appears to have broken its mooring & is drifting towards the beach pic.twitter.com/8ZmS74LUyf

— George Donikian (@GeorgeDonikian) January 13, 2016
The Herald Sun reports that freak wind gusts of up to 100 kilometres per hour caused the moorings to bust loose with popping, cracking sounds. Tug boats wer the heroes of the day, quickly deploying and saving the ship from running aground.
Something about the angle of The Spirit of Tasmania doesn't look quite right….😳 pic.twitter.com/7liQ0RwlGw

— Rohan Power (@rohanpower) January 13, 2016
Spirit of Tasmania this evening, another great shot, supplied by Peter Thomas after the vessel hit the pier. pic.twitter.com/GFBwSDW6Zd

— The Age Photography (@theage_photo) January 13, 2016
This morning, an investigation is underway to find out why the 28,000 tonne ship came loose. While the pier itself is not damaged, the ramp for loading cars is twisted and resting at a strange angle, and there is some damage to the vessel.
Spirit of Tasmania boarding bridge is damaged and hanging at a weird angle pic.twitter.com/2VZvgHa6RK

— Asher Wolf (@Asher_Wolf) January 13, 2016
So this just happened on Spirit of Tasmania after a strong wind gust. #Melbourne @theage @theprojecttv @9NewsMelb pic.twitter.com/GM4fYtOi1X

— Daniel Lieb (@lieb39) January 13, 2016
Damage to bridge of Spirit of Tasmania. #melbournestorm @ABCNews24 @abcnews #mightnotbesailing pic.twitter.com/YJc2bvn9Oz

— Tracee Hutchison (@traceehutch) January 13, 2016
The ferry is now secured, however it did not sail to Devonport last night, with some passengers spending the night on the ship and others stuck in the terminal. Thousands more travellers now have their plans thrown into disarray.
A statement from TT Liner on Facebook said, "Our second vessel, Spirit of Tasmania I, which is currently in Devonport has been delayed until an engineer's assessment is completed on the damage in Melbourne. Once the damage has been assessed a decision will be made as to whether the vessel will sail out of Devonport.
"Spirit of Tasmania can confirm that all passengers and crew are safe."
Can you imagine being on the ship as it broke free? Have you travelled on the Spirit of Tasmania? Do you have plans to?
Comments