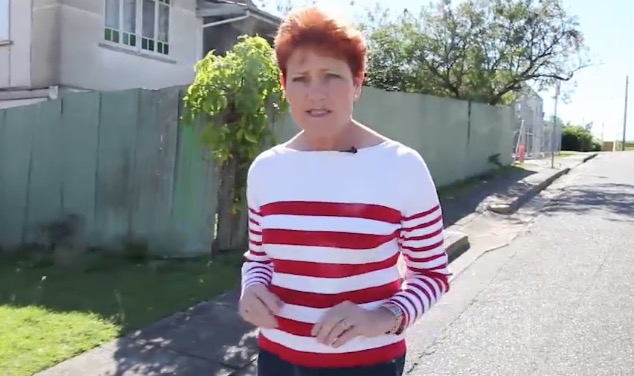 There's no denying Pauline Hanson has become much more popular than she ever has been these last few years. The One Nation leader is on the cusp of securing a Senate seat and is spreading her message far and wide to the people of Australia.
But not everyone is happy about what Pauline has to say – namely the Chinese-Australian community. They are standing up to the "racist" policies and "Islamophobia" that they say she spreads, and not because they feel they are the targets, but because they know how it feels.
In the 90s, Pauline Hanson famously said Australia would be overrun by the Chinese as they bought land and took jobs.
And the Chinese-Australian community haven't forgotten, and now have started the #SayNoToPauline hashtag and campaign as a peaceful way to go against Hanson's message.
9News reports the Chinese Australian Forum is calling on people to take photos and upload them to social media, in an effort to call out Islamophobia and "racism".
The group held a press conference in Haymarket yesterday, stating they "can empathise with the current treatment of the Arabic-Australian community".
"The campaign is raising awareness that Islamophobia is wrong… racism and discrimination of any kind are wrong and the reason we came out yesterday, although we aren't at the brunt of the attacks this time, we [the Chinese community] remembers when it was in the 1990s," Mr Cheah told 9news.com.au.
"It's basically a peaceful way to allow people to reject her racist remarks."
Mr Cheah said the response to the campaign had been "mostly positive" though some Hanson supporters have sent nasty remarks on Facebook.
The hashtag has since trended on Twitter, with many saying they want more acceptance for all.
I #SayNoToPauline because spreading hatred has never, and will never, made a great society.

— JandraRogers (@JandraRogers) July 9, 2016
#saynotopauline because there's no place for more hate in this world 🙈

— Amanda Omar (@IconicActOfD) July 9, 2016
What do you think? Are you saying no or yes to Pauline?
Comments