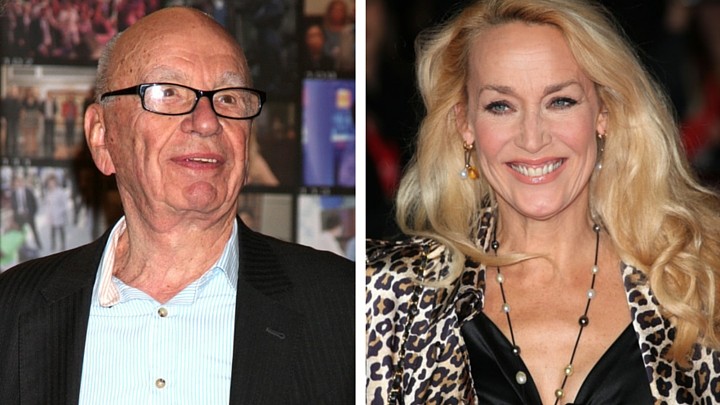 We know it's true because we read it in the paper… Jerry Hall and Rupert Murdoch have announced their engagement, placing a small ad in the Births, Marriages and Deaths section of Murdoch's British Times newspaper.
The 84-year-old media mogul and 59-year-old former model and wife of Mick Jagger told the world about their decision in this wonderfully quaint way:
"Mr Rupert Murdoch, father of Prudence, Elisabeth, Lachlan, James, Grace and Chloe Murdoch, and Miss Jerry Hall, mother of Elizabeth, James, Georgia and Gabriel Jagger, are delighted to announce their engagement."
The pair met in Australia and have only been dating for four months, Sky News reports.
A spokesman for the happy couple said, "They have loved these past months together, are thrilled to be getting married and excited about their future."
Apparently Rupert and Jerry made the decision over the weekend, but instead of rushing to Twitter or Facebook, did it the old-fashioned way, with a newspaper notice.
Okay, okay, this could be construed as a way for the newspaperman to say that print publications are still relevant, but it is nice to see some traditions being upheld.
What do you think of this surprise announcement? How did you announce your engagement?
Comments