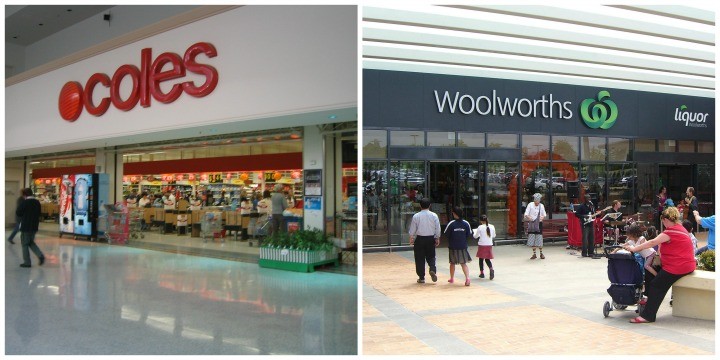 Whether realising it or not, every person in Australia spends at least $100 per week at Coles, Woolworths or one of their associated businesses. Now a new book by expert Malcolm Knox has revealed how these grocery giants vie for your money.
1. Different brands
Woolworths and Coles both have an extensive list of smaller retail operations. Their reach extends to everything from petrol, to liquor and hardware. Some Australians don't realise that walking into Masters means their dollar goes to Woolworths – or that stocking up at Liquorland will fund Coles.
Malcolm Knox instead encourages Aussie shoppers to go local, and try independent retailers. "If we can't go into a (shopping centre) without being hauled in by the duopoly – apples form Woolies, cereal from Coles, beer from Liquorland, wine from Dan Murphy's, a hammer from Bunnings, shoes from Kmart, ink from Officeworks, a toy from Target, a pillow from Big W, petrol from Coles Express – then that shows the power we have given these two companies", he said.
2. Similar advertising
Do you think that Coles' "Down Down" jingle sounds a lot like Woolies' "Cheap Cheap" tune? According to Knox, that's because both companies use incredibly similar marketing tactics to compete for your dollar.
Last year, it was only a matter of days between Woolworths announcing its celebrity spokesperson Jamie Oliver – before superstar chef Heston Blumenthal came to represent Coles. It's therefore worthwhile being savvy about different ads, and instead making purchases that suit your own needs.
3. Overseas influences
Coles and Woolworths look to the UK and America when it comes to pursuing new customers. The milk price wars that saw Aussie cartons drop to $1 had already been witnessed overseas.
Knox said this tactic forced out smaller dairy farmers in preference for Woolies and Coles own-brand milk. "(Each supermarket tried to) strengthen the market share of own-brand milk though heavy discounting. (Bringing) prices of branded milk down by demanding more cost-cutting and rebates from suppliers", he said.
4. Customer information
The Everyday Rewards and Fly-Buys programs actually tell Coles and Woolworths a lot about you. By scanning your membership card every time you shop, Coles and Woolies get a clearer picture of what their customers are regularly buying, how they're saving and have access to their personal information.
As Knox explains, "for both supermarkets, the next holy grail requires moving the focus away from suppliers and back onto customers. They want to find ways not only of attracting our dollar, but of trapping and keeping it".
5. Grocery revolution
From all reports, both Woolworths and Coles are threatened by supermarket newcomers. Overseas grocers like Aldi and Costco are set to shake-up the dichotomy which grips Australia. Much loved entrepreneur Dick Smith believes that Aldi will give Coles and Woolies a run for their money.
"If you think Coles and Woolies are ruthless, you wait. (Aldi) are the smartest retailers in the world", Dick Smith told Knox. "(Australia) will make Aldi boom".
Are you surprised by the lengths that Coles and Woolworths go, just to attract your dollar? Do you prefer to shop with Aldi, Costco or independant grocers?
Comments