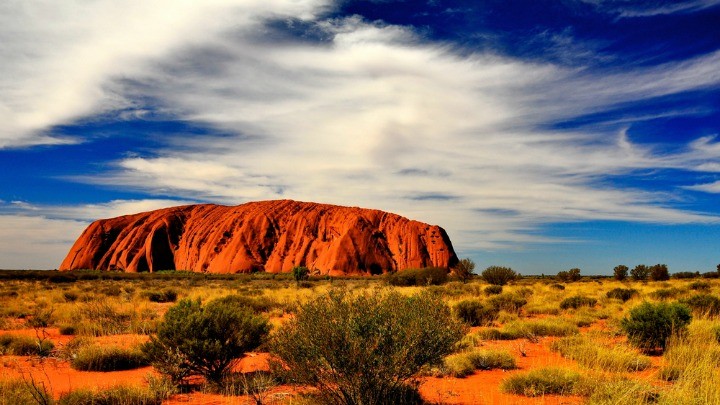 Northern Territory Chief Minister, Adam Giles, compared Uluru to the Eiffel Tower while calling on Aboriginal custodians to rethink their disapproval of tourist climbs.
Climbing Uluru is not supported by the Nguraritja and Anangu people who plead with tourists, saying they "shouldn't climb".
However Mr Giles has other ideas arguing, in a sitting of the Northern Territory Parliament in Darwin on Tuesday, that the climb would "lead to jobs and a better understanding of Indigenous culture" if it were supported by the local people.
"I was at Uluru just a couple of weeks ago with one of Australia's [most] famous, or greatest, golfers, Greg Norman," Mr Giles said.
"At the time the climb was closed due to high winds … but he, like I, could see the benefits of allowing people to climb."
Mr Giles also mentioned that he passed through Sydney recently and saw many people climbing the Sydney Harbour Bridge.
"The experience has been voted as one of the world's most spectacular and exhilarating," he said.
He continued saying that he was, "fully aware that the Sydney Harbour Bridge does not have the spiritual significance of Uluru".
But argued that the approval of the local people would see the climb being a "great opportunity for the local Anangu to participate in a lucrative business and create much-needed local jobs".
Mr Giles wants to open up a dialogue about the possibility of local support saying he would, "like to hear from the traditional owners, the Anangu people, and start a conversation".
He said that there are "plenty of examples worldwide" of sites that are of cultural sensitivity and significance which are successfully combined with tourism.
"For example the Temple of Angkor Wat in Cambodia, the Taj Mahal in India and Machu Picchu in Peru spring to mind."
"Uluru is as spectacular as any of those. It is higher than the Eiffel Tower and a lot more beautiful."
Huffington Post reports that rock walks were originally advertised to international tourists but traditional owners began to ask for the climbs to stop in the 1970s. They were able to reached a deal with Prime Minister Bob Hawke, in 1985, to stop the climbs which was never followed through with. It is not illegal to climb Uluru today, however there is a sign at the base which urges tourists to respect the local people's law and culture by not climbing.
Have you been to Uluru? Do you think people should climb?
Comments