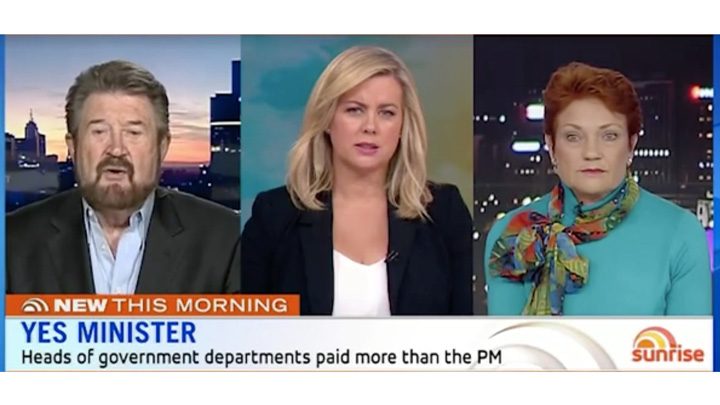 The salaries of public servants has been a contentious topic for years, with many viewed as being overpaid for the work they do, with some even paid when they do not work at all. And it's time something was done about it, said Pauline Hanson on Sunrise yesterday. Derryn Hinch agreed and said the PM is on a lot less money than some people in government.
Speaking to Sunrise host Samantha Armytage, One Nation leader Pauline Hanson discussed senior public servants' salaries in comparison to others and whether something needs to be done about it.
"It's ridiculous", said Pauline. "The head of reserve of the Reserve Bank earns $900,000 a year and the head of Australia Post gets $4.8 million. When politicians get a raise, so do public servants. It needs to have a complete overhaul.
"They are overpaid for what they do". She said that if you compare public servants in other countries, Australians are paid much more to do the same job.
Derryn Hinch said "Paycut? Yes. The deputy chairman of the Australian Prudential Regulation Authority earns $300,000 more than the PM. President of the United States Barack Obama earns $400,000. Something's rotten in canberra".
They were discussing the issue after News Corp reported Australia's top military officials are paid less than the nation's top public servants, according to a survey of federal salary packages.
Salaries of note are:
Australia Post CEO Ahmed Fahour – $4.8 million
Department of Prime Minister and Cabinet secretary Martin Parkinson – $861,700
Treasury secretary John Fraser – $840,810
Australian Prudential Regulation Authority chairman Wayne Byers – $835,590
Solicitor-General Justin Gleeson – $731,140
APRA deputy chairwoman Helen Rowell – $668,470 salary.
Director-general of security for ASIO Duncan Lewis – $626,690
Australian Border Force Commissioner Roman Quaedvlieg – $605,800 a year
Chief of Navy Vice-Admiral Tim Barrett, Chief of Army Lieutenant General Angus Campbell and Chief of Air Force Air Marshal Leo Davies – $548,360
Malcolm Turnbull – $507,338
Victorian Premier Daniel Andrews –$290,000
Tell us: do you think the PM should earn the most? Or should the salaries of senior public servants be reduced?
Comments