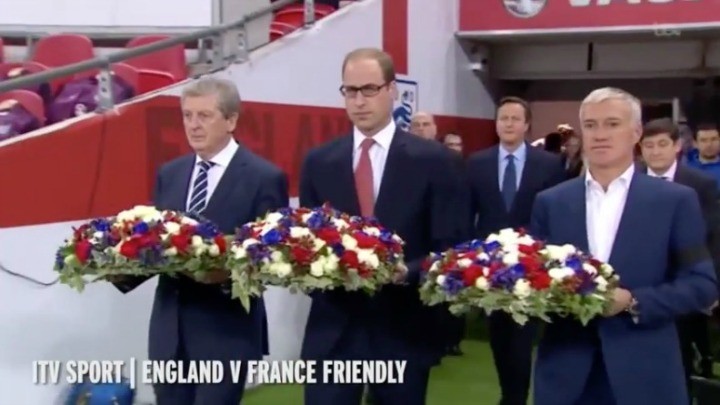 Today few would believe there was ever any animosity between France and England as the two nations stood side by side in a remarkable display of solidarity.
Defying terrorist, and with extraordinary security requirements, the French and English soccer teams met at Wembley Stadium for a friendly game.
Prince William, who on Sunday vowed he would attend the match no matter what, led the multiple tributes to those lost in Paris, by laying a wreath of flowers on the grounds, alongside the France and England coaches.
The prince then led the stadium in a rousing rendition of the French national anthem La Marseillaise. Prior to the match, the 80,000-strong crowd was encouraged to join in the song, no matter which team they were rooting for, and the words were displayed on the big screen so everyone could lend their voice to this remarkable show of solidarity.
England won the game in two-nil, but as tomorrow's newspapers in Britain will say, the victory was not one team, but the strength of freedom.
This is the moment earlier when Wembley stood in silence. https://t.co/jz8ScYb0PD #EngvFra #ANGFRA pic.twitter.com/cXsbTOdZMu

— BBC Sport (@BBCSport) November 17, 2015
Wembley 'united and defiant' https://t.co/ujSoSKaV4u

— BBC News (UK) (@BBCNews) November 18, 2015
Prince William and Catherine earlier in the day signed a book of condolences for the victims of Paris.
What do you think of this gesture of strength from France and Britain? What does it tell the those who try to bring us down? 
Comments