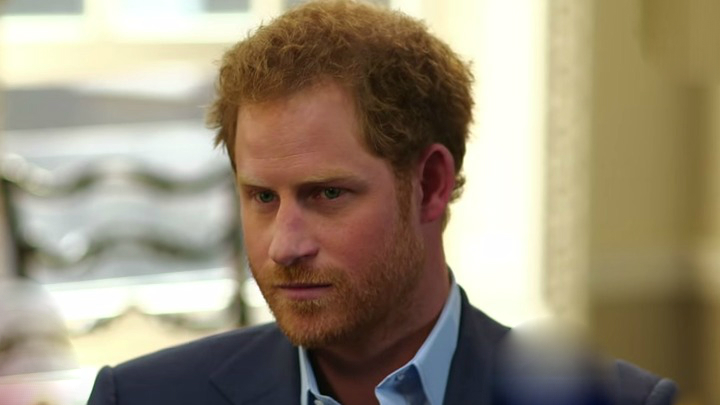 Prince Harry has never ceased to amaze us with his heartwarming gestures and this time he has reached out to the people of Orlando with a comforting letter.
He offered his condolences to mayor Buddy Dyer after a gunman killed 49 people and injured 53 others at the Pulse nightclub in the worst mass shooting in modern U.S. history, reports TODAY.
Harry's letter which was written on a Kensington Palace letterhead said, "I wanted to write and express my most since condolences to the people of Orlando after the horrific attack on the Pulse nightclub on Sunday."
Harry who served in the British army in Afghanistan would have been affected by the news of Orlando massacre as it was the very site of this year's Invictus Games, an international, Paralympic-style competition for military veterans which he created.
"Having just spent time in Orlando I know what warm and welcoming community it is," Harry wrote. "In spite of this senseless act, I have no doubt that the love and friendship of your city will remain strong," said Harry.
"I would also like to pass my deepest admiration to the enforcement officers who attended the nightclub during the attack for their extraordinary bravery and professionalism.
"Our thoughts are with the victims and their loved ones ad this most difficult times.
"You are all in our prayers as you face the days and weeks ahead," he said.
This is the letter he wrote…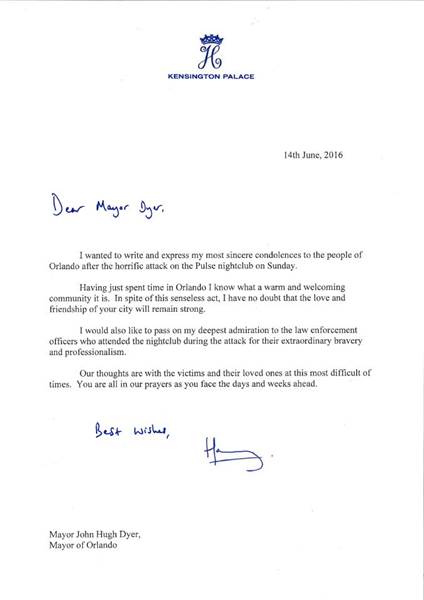 Besides Harry, several members of the British royal family also expressed their condolences to Orlando following the shooting.
Prince William and Kate, the Duchess of Cambridge, signed their names in a book of condolences for the victims in the U.S. Embassy on Tuesday (picture below).
William and Kate wrote this in the book: "With our deepest condolences and with our thoughts and prayers to all those affected."
Prince Harry at the Invictus Games in Orlando, just a few weeks ago.
Orlando is also where Harry and his brother Prince William visited Disneyland with their late mother, the late Princess Diana, as a child.
Princess Diana would be so proud of how wonderful her sons have turned out to be.
What do you think of Harry's letter?
Comments