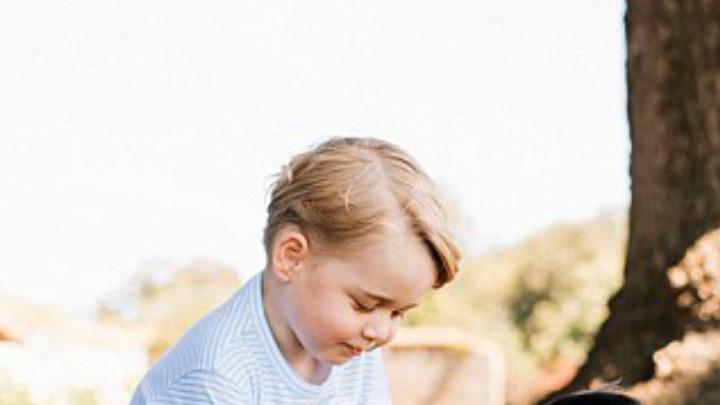 The Duke and Duchess of Cambridge have been accused of animal cruelty after allowing Prince George to give a treat to the family dog Lupo.
While there were many things we didn't know about the three-year-old, one thing we did know was that he had a fondness for animals.
It is therefore quite a shock when the the Duke and Duchess of Cambridge have come under fire from some critics, who ridiculed them for giving the spaniel treats.
In a collection of images released last night to mark his birthday, Prince George can be seen crouching on one knee with a cheeky smile on his face as he offers Lupo a white chocolate ice cream.
Experts have warned that dogs are allergic to both dairy and chocolate and feeding them milk-based products such as ice cream could cause them digestive issues.
Paula Boyden, Veterinary Director of the Dogs Trust charity, said: 'We would always advocate seeking methods to keep your dog cool, but possibly not in the form of an ice cream, unless it is a dog friendly version. The cow's milk and sugar content in ice cream can sometimes lead to digestive issues. Whenever you do treat your dog, do consider the ingredients and always seeks the advice of your vet.'
A spokesman for the RSPCA told MailOnline:  'It is lovely that Prince George is trying to help keep his family dog, Lupo, cool in these high temperatures.
'[But] we would advise people to be cautious when giving their dogs food meant for human consumption as some items, like chocolate, can be highly toxic to dogs and dairy items can be difficult for them to digest.
'Instead of ice cream we would suggest making an ice lolly from pet friendly ingredients. Making these can be really fun for children and the end product is both safe and enjoyable for dogs.'
Twitter had some backlash as well:
Monarchist MONSTER! – Never give a dog Ice Cream! At worst: it'll die, At best: the dog will diarrhea everywhere! https://t.co/FPUoiGWXxt

— My Opinion Podcast (@MyOpinionPod) July 22, 2016
Why is Prince George trying to kill this dog by feeding it a white Magnum? pic.twitter.com/LEvU6D4SeJ

— Tom McArthur (@TomMcArthur) July 22, 2016
What are your thoughts?
Comments