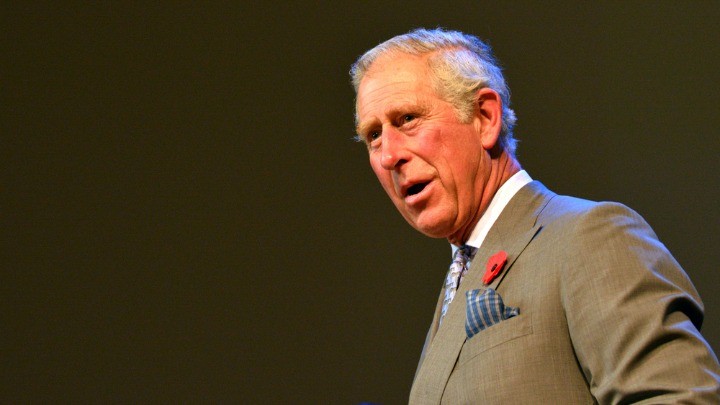 The future king of England has delivered a sombre speech at the passing out parade for new officer in Sandhurst, telling them they are facing an unprecedented new threat and uncertain times.
Prince Charles, representing the Queen for the fourth time at the Sovereign's Parade, expressed his kinship with the new officers, "I have some sense of how you must all be feeling having passed out myself from both RAF College Cranwell and Dartmouth many many years ago; and having watched my two sons march off this very square much more recently."
But he warned that they were entering service at a tumultuous time.
"You are receiving your commissions as officers at a moment when the profession of arms is moving into uncharted waters.  Pillars of the international order are under challenge as never before in my lifetime.  At the same time, a cult of death and destruction is defiling ancient lands and seducing a frightening number of lost young people.  In the face of such challenges, Britain's traditional qualities – fair play, civility, a sense of humour in adversity – remain as precious as they've always been.
"We live in an increasingly technological age.  Technology is becoming ever more sophisticated, and accessible, and is being used more often to attack rather than defend.  The harder it becomes to stop people determined to maim and kill, the more urgent becomes our need to understand and defuse their perverse determination. To do so demands not just technology, but human skills.
"The British have always excelled at understanding the human factor in world affairs. Though in the popular imagination the British may be best known for the stiff upper lip, they have long displayed an exceptional capacity for empathising with the sorrows and joys, the hopes and fears, the faiths and cultures of others.  The historical British capacity for empathy is all the more remarkable given that the United Kingdom is geographically isolated from the European mainland.
"Today we are no longer isolated.  The United Kingdom has become an extraordinarily cosmopolitan society and our diversity matches our ability to understand the perspectives of people from varied backgrounds.  People raised here are everywhere and people from everywhere are here. Our people, our sorrows, our hopes are the world's, and the world's are ours."
The Prince of Wales acknowledged the 20 per cent of cadets who came from countries other than the UK and the culture of acceptance and diversity among the new officers. He closed with a stirring premonition that would have struck fear into the heart of every parent in the audience.
"I believe that there are men and women on parade today who will confront trials as great as any faced by our forebears who carried us through two world wars.  I have every confidence that you will rise to the challenges that you will encounter, not only with the humbling courage they displayed, but with the courageous humility that success in our globalised world demands.  With your help, civilisation – based on mutual respect for people's right to be themselves – will not merely survive, it will prevail."
Can you imagine sending your sons, daughters or grandchildren into service at this time – would you proud, or afraid?
Comments