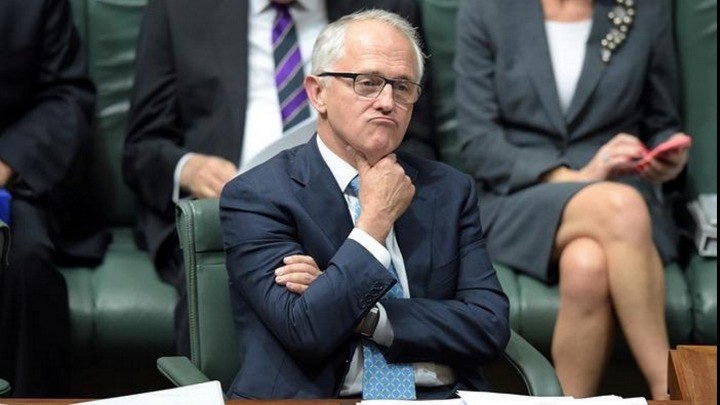 If you noticed a change in Malcolm Turnbull's persona shortly after he took his seat in the prime minister's chair, you're not alone.
Before he took leadership of the Liberal party and then Australia, Malcolm was a man of moral conviction, who believed in climate change and gay marriage without a plebiscite, and voters were confident this was the guy that could lead the country into the future.
What happened to him?
An audience member in ABC's Q&A program — having returned to its regular panel make-up involving politicians — lamented that once the PM could have had people eating out of the palm of his hand, but now it appears he's not living up to other people's expectations.
"Malcolm Turnbull is doing exactly what he wants to do as prime minister and leader," industry, innovation and science minister Christopher Pyne said in response.
"He looks like a prime minister, he sounds like a prime minister, he acts like a prime minister."
But it was met with opposition from… well… the Opposition, with Anthony Albanese saying, "Malcolm Turnbull promised to treat the Australian people like adults. Now when they look at Malcolm Turnbull, they hear Tony Abbott… I think the public are very disappointed."
The questioner disagreed with what Christopher Pyne had to say too.
"I want the old Malcolm back," he said. "The old Malcolm was more socially progressive, the Malcolm who crossed the floor on the emissions trading scheme, the Malcolm who was for marriage equality."
It seems there are many in the public sphere who agree.
"I want the old Malcolm back"#qanda – yes please!!!!! #auspol

— tracy walker (@thewollemipine) May 23, 2016
Has anybody else noticed how much the new Malcolm Turnbull has divorced himself from the old Malcolm Turnbull?… https://t.co/I57kQu9chf

— Michael Taylor (@AusIndiMedia) May 18, 2016
John Hewson nails it. Yes we all want the old Malcolm Turnbull back #qanda

— Gary Morgan (@morgan_gary) April 18, 2016
On the campaign trail, Malcolm Turnbull recently announced $60 million in new funding towards a mobile black spot program, which takes the Government's total funding towards this issue up to $220 million.
There are more than 6,000 mobile phone black spots across Australia, especially in parts of rural and regional communities who are warning the Government that poor coverage is having a dire effect on personal safety and is hurting local businesses.
#ICYMI: Prime Minister @TurnbullMalcolm announces $60m for mobile black spot program. #ausvotes#auspolhttps://t.co/kJ4XIQCF7F

— ABC News 24 (@ABCNews24) May 24, 2016
Do you think Malcolm Turnbull has changed his tune since becoming prime minister? Share your comments with us.
Comments