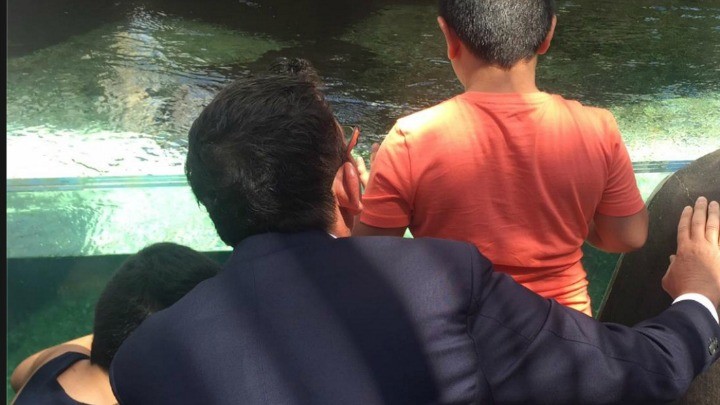 Victoria's Premier Daniel Andrews yesterday visited Melbourne Zoo with two of the children who are likely to be deported to Nauru in the near future.
He posted this emotional plea to the Prime Minister on his Facebook page:
It reads, "I can't show you their faces, but I can tell you a bit about these two beautiful kids who I took to the Melbourne Zoo.
They're ordinary Victorians in almost every way. They go to their local primary school; they laugh, they learn, they play.
But one thing is very different: any day now, these two boys will be deported to Nauru and will stay there indefinitely.
Dozens more children face the same fate.
Please, Prime Minister: it doesn't have to be like this.
Let's do the right thing by these children and their families. Let's prove that we really are a fair and decent society.
It was so special meeting these two boys.
Perhaps they don't really know what might be happening to them. Perhaps they don't yet understand.
But they love this place. And they certainly loved their trip to the zoo.
They loved seeing the baby animals in their sanctuary, safe and sound.
I wish I could have shown you their faces at that moment. You wouldn't believe how much they smiled."
Over the weekend Premier Andrews wrote an open letter to the Prime Minister, asking him to reconsider deporting 267 people, including children and babies back to Nauru following a High Court decision that their offshore processing was legal.
The Premier, who joins Queensland and South Australia's premiers who have also offered their support, was criticised for using the plight of these children as a political stunt.
His trip to the zoo yesterday coincided with rallies around the nation in support of the men, women and children who will be deported in as soon as a few weeks' time.
Even Liberal Premier Mike Baird, the premier the whole country loves, has offered the support of New South Wales to look after the asylum-seekers.
On Sunday, he issued a statement complimenting Mr ­Andrews's "humanitarian impulse" and describing him as "a good man", The Australian reports.
While he did not go so far as to endorse Mr Andrews's proposals in the letter (below) Mr Baird did indicate that NSW would be willing to accept the asylum-seekers, saying if the commonwealth had "any additional requests for NSW we are prepared to help".
I wrote a letter to the Prime Minister today. #LetThemStay pic.twitter.com/AtekuC1GYh

— Daniel Andrews (@DanielAndrewsMP) February 6, 2016

Do you this the premiers can convince the federal government to "let them stay"?
Comments