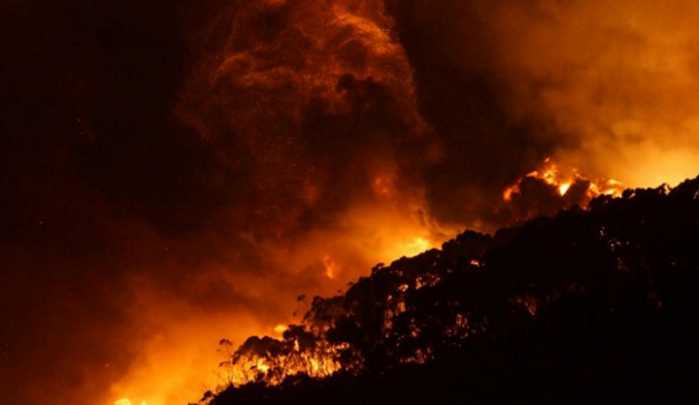 Christmas Day was devastating for those in the Great Ocean Road areas of Lorne, Wye River and Separation Creek.  Homes have been lost, but thankfully the people took the warning seriously and the emergency services staff were diligent in their response meaning no lives have been lost.  The heartbreak is permeating to see such loss on Christmas though and our thoughts go out to anyone affected.  All we can do now is pray for rain.  [#prayforrain]
Wye River has lost nearly one third of the homes in the area, and the access roads remain closed to all.  The beach is inaccessible and the pub is not open yet this is normally the busiest time of year.  It is a sad reality for the township that has lost 98 houses in the 48 hours since Christmas, which is normally their busiest time.  Thankfully, the surf club which is at the heart of the township has not been damaged and the 200 remaining houses appear to be safe for now.  Emergency services are trying to help homeowners gain access to their land and see what is left and residents are prepared for the worst.
The last time the bush burned in this area around Lorne was 1962 so this bushfire is fuelled powerfully and it is said that could last some time and be difficult to stop.  In fact, firefighters expect it will last for weeks as it slowly burned through the undergrowth, or quickly if winds and heat pick up again.
The Falls festival, a large scale music event is normally held 10kms from Lorne this week to celebrate the season, and it has been moved to Geelong after fears for the safety of attendees were heightened this week.
At the time of writing 98 homes have been lost at Wye River, 18 at Separation Creek and the fire is burning on, if at a slower pace.  Conditions have calmed a little for firefighters today but a heatwave is expected to escalate towards the end of the week so no-one is complacent.
Townships around the area are suffering badly as tourists evacuate or stay away for fear of the impacts of bushfires, and it is devastating for the small business owners who rely on the festival and the people to bring with them the money the town needs so much.  It is the season that people normally flock to the beaches in the areas of Torquay, Lorne and other surrounding areas.
Emotional stories are starting to leak out, but as yet there is little information about what we can do to help.  [We'll keep you up to date as charities and support groups mobilise.]
The best we can do it seems is to pray for rain.  #prayforrain
Our thoughts are with everyone affected.
Have you been or do you know someone who has been affected by the Victorian bushfires?
Comments