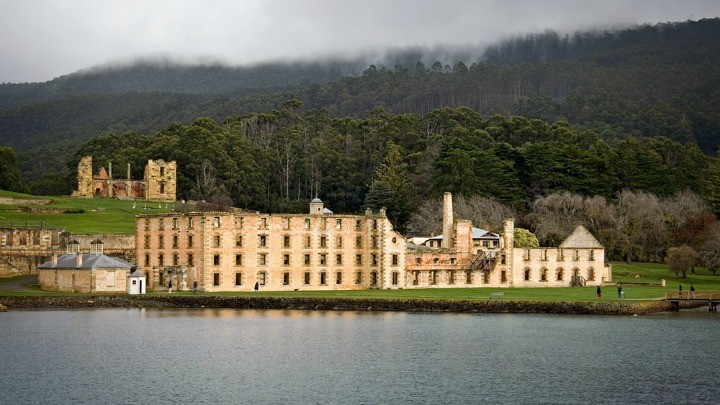 It has been nearly 20 years since Australia witnessed one of the worst crimes in its history at Port Arthur in Tasmania.
On April 28, 1996 Martin Bryant entered popular tourist spot Port Arthur Historic Site, a former prison colony, and opened fire on the crowd killing 35 people and wounding 23.
Peter and Pauline Grenfell were there on that fateful day and have spoken publicly about their face to face encounter with Bryant for the first time.
The Grenfells only decided to visit Port Arthur that day at the last minute and were standing near the toilet block when they heard the first shots ring out in the nearby Broad Arrow Cafe.
They told the ABC's Australian Story at first they thought it was some kind of explosion but then they heard people yelling, "he's got a gun and he's shooting".
It was then they saw Bryant emerge from the cafe and start shooting in their direction.
The couple said they saw everyone running towards the oval, but thinking they would be too exposed there, they decided to head towards the road instead.
On the road they encountered Nanette Mikac trying to escape with her daughters, three-year-old Madeline six-year-old Alannah.
"They were trying to get out, same as us," Ms Grenfell said.
"The older of the two children was very fearful and her mum said to her: 'We're safe now, pumpkin'. And she seemed to feel better then."
Ms Grenfell said she was worried about the children and wanted to get them to safety.
"I remember at least two cars driving past. They didn't stop, they just kept going," Ms Grenfell said.
"We must have been about 50 metres from the toll booth [exit] as this car pulled up and stopped.
"We thought: 'Thank God, somebody's going to pick them up and get them out of here'."
But it wasn't help, it was Bryant driving a yellow Volvo.
Ms Grenfell says Nannette walked straight towards the car with her children thinking it was their way out.
"The problem was she walked right into him," she said.
Peter Grenfell recalls standing almost at the passenger side door of Bryant's car.
"That's when I seen the gun on the front seat and I yelled out, 'It's him, run'."
Peter and Pauline ran for cover behind the trees but it was too late for Nannette and her daughters.
Bryant killed all three of them before returning to his car and speeding off.
"A mother and her two children saved us. They saved us, and I was always just so sorry we couldn't save them," Ms Grenfell said.
"They gave us the precious seconds to move away. So, yes, we were lucky and we were fortunate but that doesn't take away the pain of what happened. That stays with you."
The couple later met with Nannette's family and husband Walter, who wanted to know what happened in the last moments of their precious girls' lives.
"That was his family and he had a right to know that at least they didn't suffer too much," Ms Grenfell said.
"We all cried together. We felt, what could we do, why couldn't we do something to save their lives?
"Reality was, we couldn't. Not without being killed. But I just felt so guilty. The guilt just ate at me."
Peter Grenfell said: "To be in that position and tell somebody what had happened, [that] you were the last person to see his family alive.
"It was very hard. Very hard. But you cope. Every day as I get up, I look at it as a bonus."
Do you remember when the Port Arthur massacre happened? Does you still feel for all the victims of this horrible attack?
Comments