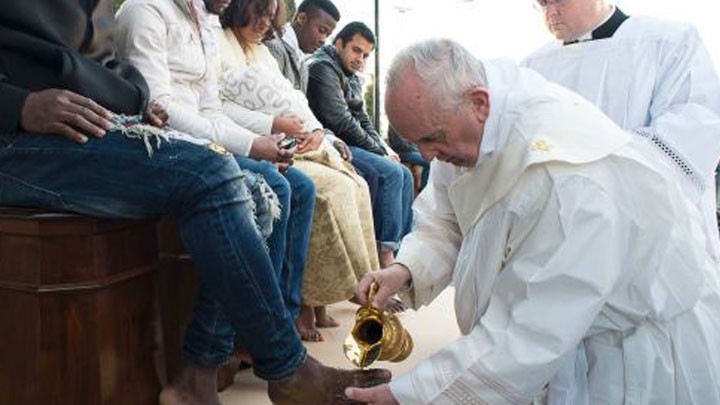 Following Monday's terrorist attacks on Brussels, Pope Francis declared the action a "gesture of destruction".
But rather than return with anger, or blame entire religions or cultures for the wrongdoing of individuals, he has opted for a far more peaceful retaliation: a "gesture of brotherhood".
In the traditional Holy Thursday rite, the Pontiff visited refugees currently seeking shelter in Rome, and reenacted the ritual Jesus was said to have given his apostles before his crucifixion: washing and kissing each of their feet.
According to The Independent, Pope Francis condemned to Brussels attackers for wanting to destroy the "brotherhood of humanity" these migrants proudly represented.
Many of these men and women – ranging from Nigerian Catholics to Muslims from Mali, Pakistan and Syria – reportedly wept as he bathed their feet in holy water, wiped them dry and kissed them.
This is far from the first time the Argentine pontiff has given such a gesture to the needy and socially outcast. In prior years he has washed the feet of prisoners and the disabled.
Nonetheless, this marks a particularly significant and timely change from the days that only those in the Catholic Church could participate in the hallowed ceremony.
"We want to live in peace, integrated," said the Pope.
"All of us, together: Muslims, Hindi, Catholics, Copts, Evangelicals. But brothers, children of the same God".
How do you feel about this gesture of peace in a time of tension and war? Do you believe this is the right message for Pope Francis to send the world right now? Are we truly "children of the same God"?
Comments