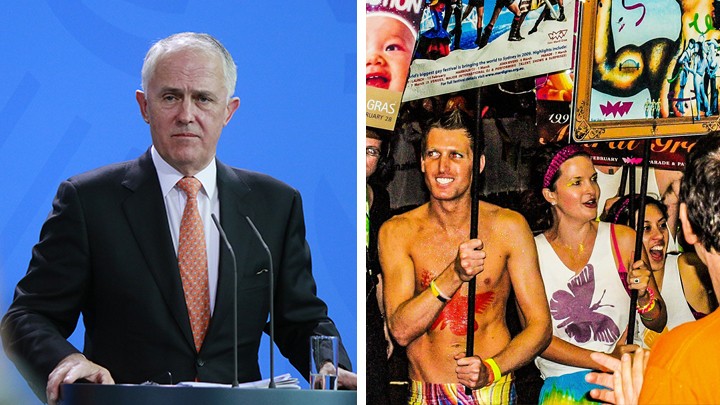 Last night, Malcolm Turnbull became Australia's first Prime Minister to attend the Sydney Gay and Lesbian Mardi Gras.
Sporting a pink shirt, Mr Turnbull became one of the night's biggest stars, with supporters flocking to get selfies with the PM.
For the LGBT community and its supporters, this is certainly an encouraging step forward. However, his support was not quite the grand gesture it could have been. Mr Turnbull chose not to march in the parade itself, and of course, remains noncommittal on moving Australia forward with marriage equality.
"You can't be half arsed when it comes to equality," said Opposition Leader Bill Shorten, who joined the march.
"The old Malcolm Turnbull would have marched in the parade but the new Malcolm Turnbull can't march because he's so in thrall to the right wing of his party".
Mr. Shorten took the march, marking the first time an active leader of one of the two major parties has done so.
The social media reaction was similarly mixed. As voter pointed out: "Malcolm Turnbull has a hide turning up to Mardi Gras after doing nothing other than make life more difficult/hurtful for LTGBI people".
"To paraphrase The West Wing: it's not enough to say you're protecting people's rights, Malcolm, you have to actually do it".
What do you think of Turnbull and Shorten's support of the event. Is it the right way to send the right message?
Comments