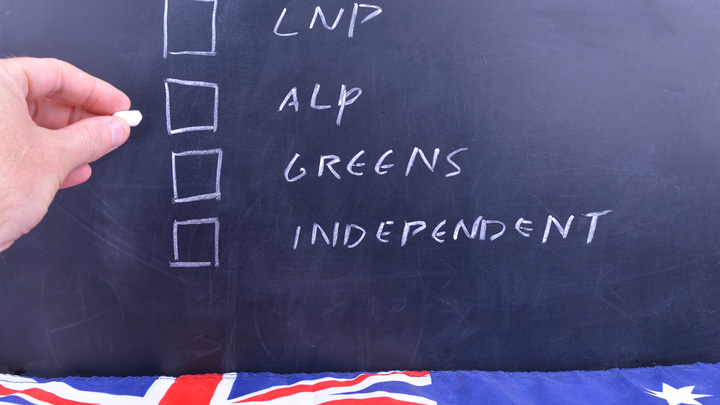 It's hard to believe the Federal Election campaign is in its final day, and tomorrow we head to the polls to make our vote count. It may have been 55 days of repetitive news coverage but we can say we made it!
You might have put off thinking about polling day and may not have thought about where you'll vote, or where to grab a sausage sizzle. Things have changed and you mightn't be able to just head down to your local school.
Here's the must knows for the July 2 election!
TV coverage
ABC: Kerry O'Brien will not be hosting this year, instead 7.30 host Leigh Sales and political editor Chris Uhlman will lead the coverage, as well as election analyst Antony Green, Annabel Crabb, Barrie Cassidy and Sabra Lane, Treasurer Scott Morrison and Senator Penny Wong.
Sky News: David Speers will anchor, along with guests Keiran Gilbert, Paul Murray, Peta Credlin, Laura Jayes, Michael Kroger, Kristina Keneally, Alan Jones and Bruce Hawker.
Nine: Karl Stefanovic and Lisa Wilkinson with Laurie Oakes and guests Peter Costello, Kim Beazley, Anthony Albanese, Amanda Vanstone, Arthur Sinodinos and Maxine McKew.
Seven: Mark Riley with guests Mark Ferguson, Chris Reason, Marija Jovanovic, Alan Jones and Mark Latham.
When to vote
Polling booths open at 8am and close at 6pm tomorrow. If you are working or are otherwise engaged tomorrow, you may be able to vote early at a centre today. You can find your nearest early voting centre using the Australian Electoral Commission's (AEC) search tool.
Where to vote
Polling places for this federal election have changed, so make sure you take a look at the AEC website before heading down to your local school or church. Simply enter your location and it will give a list of where to vote.
How to vote
Voting for the House of Representatives is the same: Vote 1 for the person you want to win, and then number all the other boxes up to the end (the highest number of candidates running in any seat is 11).
There have been changes to how to vote for the Senate: You must number at least six boxes above the line. If you want to vote below the line, you only need to number a minimum of 12 (you used to have to number all of them)
Where to get a sausage sizzle
Let's face it: one of the most important parts of election day is the sausage sizzle, but not every polling booth has one.
Luckily a website called SnagVotes can help you find your local polling booth with a sausage sizzle, and also tells you if they have a cake stall and even vegetarian options.
When will the result of the election be announced?
The 9NEWS Election 2016: Australia Decides panel will make an early call on the winner from an exclusive Galaxy call at 5pm and report the results as they come into the newsroom.
However, counting of votes will continue for some time after tomorrow. "On election night, all first preference votes will be counted at the polling place where they are cast", according to the AEC.
A two-candidate preferred count of the House of Representatives ballot papers is also completed.
The final result will not be known until all votes, including postal votes, are counted, and the AEC must wait for up to 13 days after the election to allow for postal votes to arrive and be counted.
Tell us, do you know who you'll be voting for tomorrow? Who do you think will win?
Comments