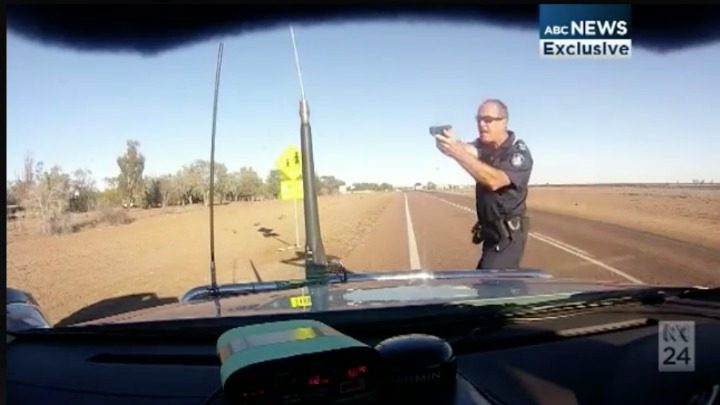 LANGUAGE WARNING
A Queensland police officer has been caught on camera brandishing his gun at a young man after pulling him over for speeding in the outback.
The ABC has released the footage, which is being used in a civil hearing before a judge in the Supreme Court, and shows Senior Constable Stephen Flanagan swearing and yelling at the driver before aiming his gun at him.
The diver was doing 126km/h in a 110km/h zone, when Flanagan spotted him and pulled up alongside him honking his horn and swearing.
Flanagan does not have his siren on and continues to honk his horn until the driver pulls over.
The dashcam footage shows Flanagan emerging from the police car, pointing a gun at the driver saying: "Get out of your f****** car right now."
The driver's girlfriend filmed the incident on her mobile phone and captured footage of Flanagan handcuffing the young man.
"What the f*** are you pulling here today?" Flanagan said to her partner.
"You came past me – I'm bloody beeping the horn up the side to point you over and you still keep driving.
"What is your f****** story? Do you have a licence?
"You didn't see me? Right, where's your licence dickhead?"
Flanagan threw the driver's keys to the ground and was can be heard antagonising him while he handcuffed him.
"We'll go to court and I'll sit there and drink coffee and laugh my ass off while you get convicted, how's that sound?" Flanagan said.
Flanagan will face court on the criminal charges in relation to the incident, which has caused debate among many people.
Some say Flanagan used excessive force and that he was out of line when he used his gun and failed to put on his sirens.
Others though say he was simply doing his job and that he shouldn't face charges for it.
What's your opinion on this?
Should we leave police officers alone to do their job? Or was he out of line in this case?
Comments