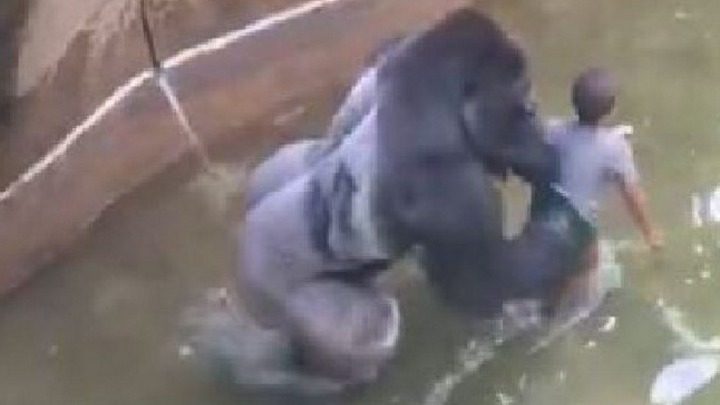 Only a few weeks ago, the world was captivated by the story of a young boy who fell into a gorilla exhibit at Cincinnati Zoo, which resulted in the shooting of the endangered animal.
There was public outcry over the shooting, with calls for the parents of the boy to be charged with negligence for allowing him to run off and put himself and Harambe the gorilla in danger.
Now though, the prosecutor in charge of the case says he will not be pressing charges against the boy's mother and that he simply "scampered off" when she wasn't looking.
Hamilton County Prosecutor Joe Deters said the mother's actions were "not even close" to meriting reckless endangerment charges and that she was free from responsibility over the shooting.
The boy was in the enclosure with Harambe for nine minutes before the gorilla was shot and killed and he was rescued.
He apparently climbed over the outer barrier of the exhibit before falling 4.5 metres into the shallow moat below.
Onlookers say Harambe initially appeared to be protecting the child, but became "agitated and scared" when people started screaming and began dragging the child away.
Zoo workers decided the safest option for the child was to shoot and kill Harambe.
Their actions sparked outrage around the world though, with thousands of people saying they should have tranquilized the gorilla instead.
Many called for the boy's parents to face charges and say they are disappointed no one had to face up to any consequences for the incident.
What's your opinion on this issue?
Should there be consequences over Harambe's death? Were zoo workers right to shoot and kill Harambe, or should he have been tranquilized?
Comments