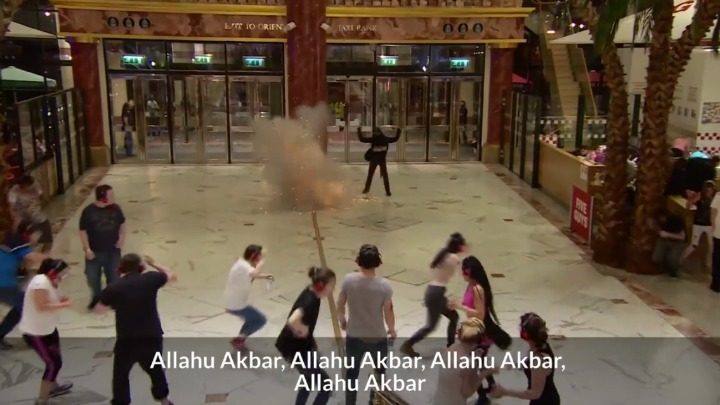 Police in England have been forced to apologies after staging a fake terrorist attack in a shopping centre and shouting a religious phrase right before detonating the 'bomb'.
Greater Manchester Police released video footage of the training exercise online but were soon forced to issue an apology after people called them out for yelling "Allahu Akbar" (God is great) before pulling the trigger on the bomb.
The exercise was held on Monday night in a major shopping centre where police and volunteers set out to create a realistic terrorist attack to see how police would handle themselves in such a high-pressure situation.
Soon after they released the footage though, people jumped online to vent their anger at the police force and accuse them of depicting all terrorists as Muslims.
@gmpolice absolutely disgusted with your terrorism exercise.Why don't you clearly say it that Islam is terrorism.That's what you're implying

— salvadore (@salvadore007) May 10, 2016
@gmpolice @ACCGarryShewan however accepting things went wrong& apologising is a step in the right direction, hope lessons are learnt 2/2

— Innovate Walsall (@innovatewalsall) May 10, 2016
Allahu Akbar means 'God is great' – it does NOT mean I am wearing a bomb and about to detonate. pic.twitter.com/84esbleuN6

— Nav Khan ✌ ⚖ (@khannaveed) May 10, 2016
Good question. We need to move away from stereotypes if we want to achieve Real learning. A terrorist can be any one https://t.co/vQ3thEGGGn

— Dr Erinma Bell MBE (@ErinmaBell) May 10, 2016
The police department quickly released an apology statement saying the choice of words were inappropriate and that it was unacceptable to use a phrase "which so vocally linked the exercise with Islam".
However this only incited more anger from people who said they copped out caving into the critics.
A statement from ACC Garry Shewan following last night's counter terrorism exercise #CTexercise pic.twitter.com/n56RtYnqmb

— G M Police (@gmpolice) May 10, 2016
People said they shouldn't have apologised and that it was political correctness gone mad.
@gmpolice No need to apologise, you were right & followed the pattern of Brussels, Paris, Lee Rigby. PC brigade need a reality check.

— Ezekiel Kensington (@EJKensington) May 10, 2016
@gmpolice absolutely no need to apologise. #CTexercise

— Ruth (@ruthyp_) May 10, 2016
@gmpolice Shocking, deplorable, disgraceful of G. M. Police. Please get a PC to get more PC next time. Get ad in MEN pic.twitter.com/GkmqBFIuJQ

— Victim Culture (@victimclture) May 10, 2016
@gmpolice why say sorry? Someone blowing themselves up isn't going to shout Merry Christmas! You've made yourself look like idiots!!!

— Ash (@ash_mcr) May 10, 2016
@gmpolice disgusting that you have apologised. Would terrorists apologising for killing people?

— Andrew Boyle (@andrewboyle1978) May 10, 2016
The issue has divided many people with some saying the exercise was completely unfair towards people of the Muslim faith.
Others though said it was justified given the recent attacks by Islamic State around the world.
What are your thoughts?
Were police wrong to using the religious phrase? Or was it justified?
Comments