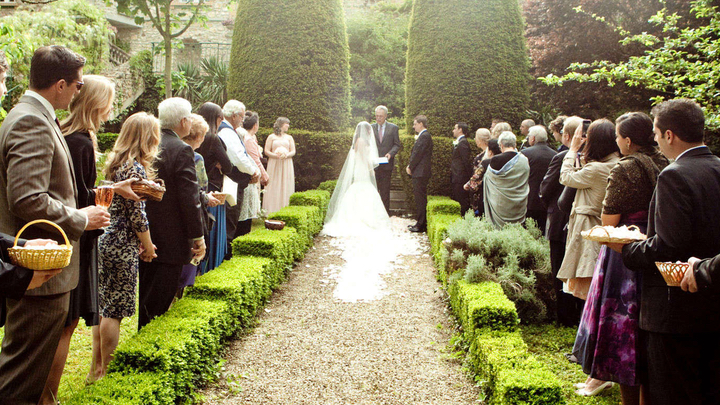 The idea of the flower girl has been beautifully, and amazing flipped around at a special ceremony.  Maggie and Josh Wakefield decided to do away with the little girl in pigtails for their wedding and decided to honour their grandmothers by having them be the flower girls.
Maggie's grandmother Joyce, 75, and Josh's grandmother Drue, 74, wore beautiful matching dresses as they dropped flower petals on the isle for Maggie to walk on.  It was especially important for Maggie as her father, Joyce's son, would not be at the wedding after losing his battle with colon cancer in 2013.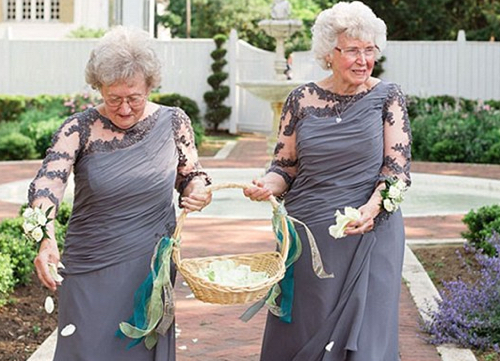 Maggie told The Huffington Post "I'm sure that my father was looking down, smiling and laughing, at his mother throwing flower petals, with his father and me following from behind."  Maggie's father was still part of the ceremony as Maggie had a specially made locket with his photo around her bouquet.
It was a special day for the grandmothers as well as Maggie said "Immediately after we asked them, a big smile formed on their faces. We could tell how touched they were by being a part of our bridal party."
At the reception, both Joyce and Drue danced the night away with the bride and groom in a wonder evening that won't be forgotten by anyone.
How special was this tribute to these beautiful ladies?  Isn't a great concept on having the grandparents included in the ceremony?  Should it become a regular thing?
Comments