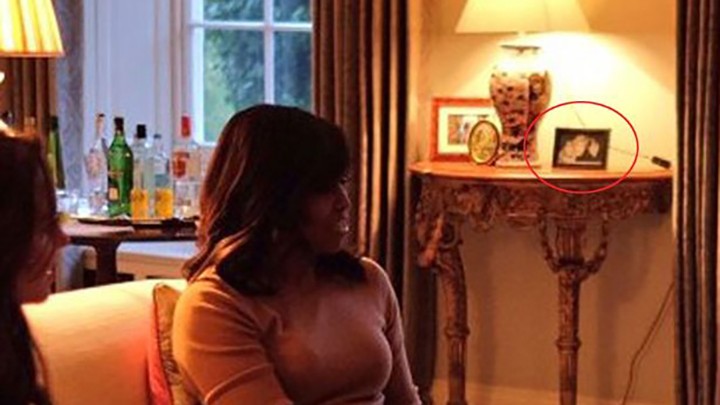 The Obama's visit to Kensington Palace to meet little Prince George in his pyjamas, along with the Prince and Princess of Cambridge yielded a view of their home that the papparazzi are scouring for clues on their personality.  And there is only one thing that we thought was worth sharing today.
In pride of place in the Prince's home, on the table of his front room is a picture that goes back to 1994 of Princess Diana, Prince William and Prince Harry cuddled up.  It looks to be positioned as a beautiful and cherished piece and loving reminder of his childhood.
The picture makes for the perfect loving feeling in the royal family home that used to be Diana's.
It is said to have been taken at Christmas in 1994 of Princess Diana with a young Prince William and Harry.
A beautiful birds-eye view into our heir to the throne and his lost and well-loved mother.
The President of the United States and the First Lady enjoyed a relaxed dinner with the royals last night. Photos have been emerging throughout the day of their encounter.
.@BarackObama and @MichelleObama arrive at Kensington Palace for dinner with The Duke, Duchess and Prince Harry pic.twitter.com/ZdXMj24pCL

— Kensington Palace (@KensingtonRoyal) April 22, 2016
The Duke, Duchess and Prince Harry chat with the President and First Lady before dinner at Kensington Palace pic.twitter.com/vWCru1ifDW

— Kensington Palace (@KensingtonRoyal) April 22, 2016
And finally, this picture which sent the world into a tailspin this morning. More here in our earlier article.
Prince George meets The President and First Lady of the United States pic.twitter.com/HZxelhSSr4

— Kensington Palace (@KensingtonRoyal) April 22, 2016
Comments