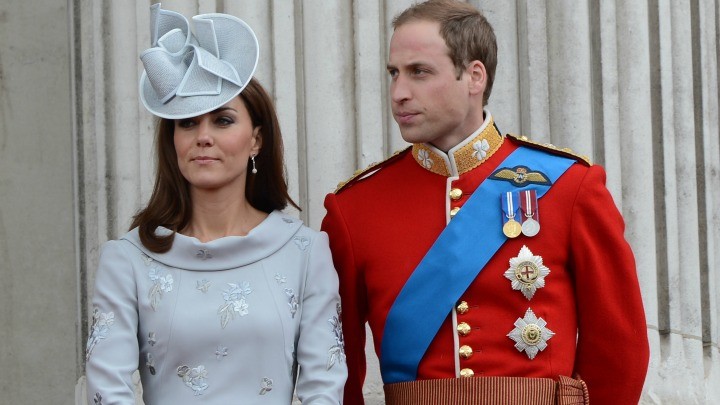 The Duchess of Cambridge has ignited a furore after daring to "walk in front" of her husband. These latest photos have cause people to question whether the Order Of Precedence should apply in 2016.
Catherine and William visited XLP London today, a charity dedicated to supporting young people living in disadvantaged urban areas. Upon entering the building, Catherine was photographed stepping ahead of William.
"Why does she always insist on walking ahead of him?" incensed royalists wrote on Instagram. "Protocol won't allow that when he's king – know your place".
Another royal watcher added, "Look carefully at other pictures. William usually has his hand on her back and is ushering her before him".
Other members of the public were more relaxed about the Order Of Precedence though. "Who cares?" one wrote online. "Too funny that comments were even made".
Normally, the Order Of Precedence would dictate that Catherine walks one pace behind William. This is because the Duke of Cambridge shares royal blood, but his wife does not.
In reality, William often holds hands with Catherine or places his hand on her back. The Duke and Duchess of Cambridge certainly approach the Order Of Precedence in a much more casual manner then their predecessors, Prince Charles and Princess Diana.
In any case, Queen Elizabeth is said to have changed the Order Of Precedence in 2012. Her new mandate meant that Catherine was still required to step behind "blood princesses". Such women include Princesses Anne, Beatrice and Eugenie, all of whom were born royal.
It seems a shame that a literal "step out of place" could detract from charity work being undertaken by the Duke and Duchess of Cambridge. Their efforts at XLP London today were intended to highlight young people dealing with emotional, behavioural and relational challenges.
"Their Royal Highnesses heard from mentors and mentees about their experiences with a range of issues – from domestic violence to gang involvement", Kensington Palace explained via Instagram. "XLP has helped them overcome these challenges to create a more positive future".
Are you bothered that Catherine walked in front of William? Should the Order of Precedence always be observed? Or is this tradition outdated in 2016?
The offending photograph is below:
Kate normally stays one step behind "blood" royalty:
Comments