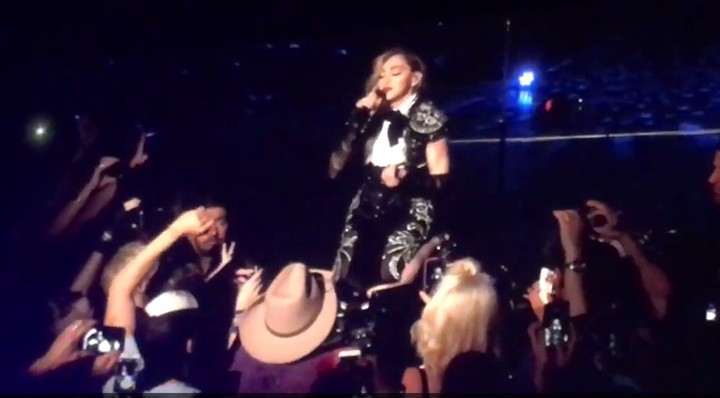 Molly Meldrum sat in the front rows of Madonna's concert last night at the Rod Laver Arena which started just 45 minutes late, and received a glorious amount of attention from the star as she performed.
A full blown pop entertainment concert, the show which attendees paid up to $500 per ticket for made special tribute to Molly Meldrum putting him in the spotlight for several moments of gratefulness from the star.
Many Australians watched Molly's life story in recent months in the television mini series and were reminded of how signifiant Molly was to Madonna's early success in this country.
At one point of the concert, Madonna was dressed as a sad clown, performing her skit when she approached Molly Meldrum, who was in the front row, offering him a swig from her flask and thanking him for "being the first man in Australia to fall in love with me."
She dedicated Take a Bow to Meldrum saying "you're the best" and the crowd chanted "Molly! Molly!"  See the video below.
Are you pleased to see Molly being recognised for the extraordinary things he has done?
Madonna and Molly – warning Contains F Bomb! #RebelHeartTour pic.twitter.com/Vj6naTUomh

— cameron adams (@cameron_adams) March 12, 2016
Molly and @Madonna up close – a beautiful moment #RebelHeart – via @linda_freedman pic.twitter.com/Zg4vAq9glv

— cameron adams (@cameron_adams) March 12, 2016
See Meldrum's interview from 1984 with the star below.
Comments