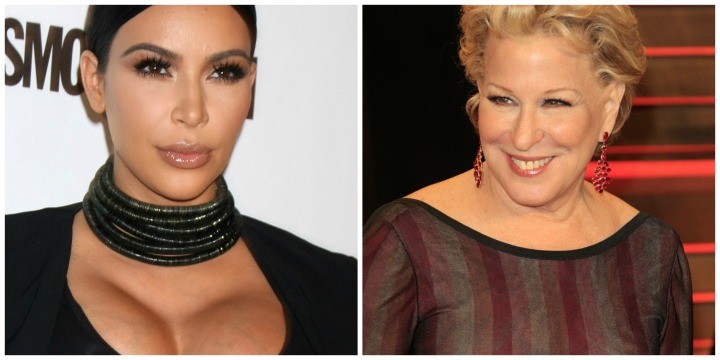 Kim Kardashian has retaliated after Bette Midler offered her some "choice words" this morning. The 35-year-old reality TV "star" accused Bette Midler of being fake.
"Hey Bette Midler, I know it's past your bedtime but if you're still up and reading this send nudes #justkidding", Kim's nasty Tweet reads.
She followed this up with, "Hey Bette Midler, I really didn't want to bring up how you sent me a gift a while back trying to be a fake friend then come at me #dejavu".
Kim Kardashian is seemingly on the defence, after Bette Midler wrote some home truths online. People everywhere have been praising Bette Midler for this sassy (albeit cutting) comment:
"Kim Kardashian tweeted a nude selfie today. If Kim wants us to see a part of her we've never seen, she's gonna have to swallow the camera", Bette said.
Starts At Sixty readers have relished in Bette's honesty. One reader said, "I love the comment, and I just love Bette Midler". Whilst another added, "So so true Ms Midler! So sick of seeing and hearing Kardashians".
The string of bizarre Tweets from Kim Kardashian continued tonight. She even referenced her husband Kanye West, who is half a billion dollars in debt:
"Sorry I'm late to the party guys. I was busy cashing my 80 million video game check & transferring 53 million into our joint account", Kim wrote online.
We wonder if Bette will dignify Kim's latest comments with a response.
Do you think Bette Midler was spot on? Are you glad to see Kim Kardashian getting a dose of "harsh truth"?
Comments