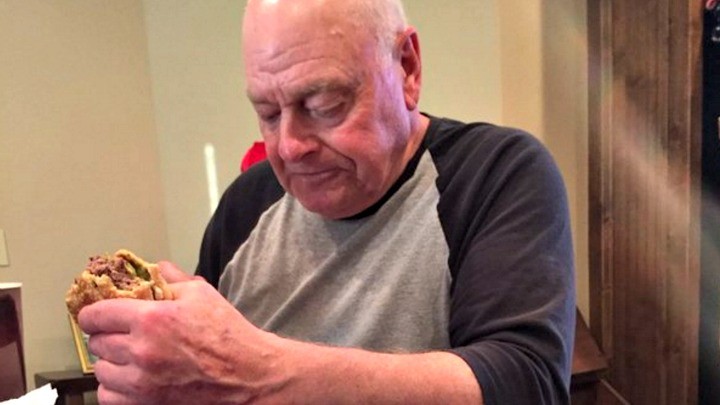 Remember the lonely grandfather whose family didn't turn up for dinner? Well, now hundreds of people have cheered him up with a community barbecue.
Kenneth Harmon, who is known to his grandchildren as Papaw, had the internet's sympathies when only one of his six grandchildren showed up for a planned dinner.
"Dinner with papaw tonight", Kelsey Harmon tweeted earlier this month. "He made 12 burgers for all 6 grandkids and I'm the only one who showed. Love him".
The heartbreaking picture showed a downtrodden Kenneth, sadly eating one of the meals he'd prepared. Since then, strangers from all over the world have sent their love to Kenneth.
Many folks online said it prompted them to visit their own grandparents. "Kelsey and Papaw got me thinking about my family and how I need to cherish them more", one Twitter user said.
The community has now rallied around Papaw, creating him a very special barbecue with hundreds of hamburgers and just as many people.
At least 100 people showed up to attend the barbecue at Papaw's local park in Oklahoma. Pictures online show that guests queued to join the barbecue, dubbed #papawcookout
Kenneth Harmon was pictured with a huge grin, surrounded by well-wishers and wearing an "I ate a burger with sad Papaw" shirt. We're thrilled this story has a happy ending!
Should more people be mindful of their older relatives? How can we ensure that no grandparents get forgotten by their families?
dinner with papaw tonight…❤️ he made 12 burgers for all 6 grandkids and I'm the only one who showed. 😢 love him pic.twitter.com/0z0DkPtUiR

— kelsey (@kelssseyharmon) March 17, 2016
The line for #papawcookout is insane! So much love for Papaw! #Oklahoma pic.twitter.com/kC0GENy2zL

— Victoria Bumgarner (@vickybumgarner) March 26, 2016
Glad I got to meet sad Papaw today! He is so sweet! #papawsburgers #papawcookout pic.twitter.com/SNyu23GlsG

— Emmmm!! (@emilytulane998) March 26, 2016
Enjoyed a delicious burger with #SadPapaw at the #papawcookout You have a great family @_papaw_ pic.twitter.com/3FhuVU9C8i

— Rini (@rini_the_ripper) March 27, 2016
This is the line for #papawcookout right now @NEWS9 pic.twitter.com/g6OLF195NL

— Grant Hermes News 9 (@GrantHermesKWTV) March 26, 2016
Comments