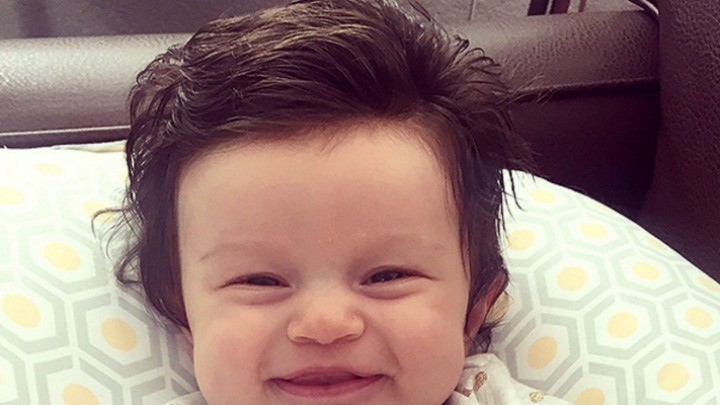 When baby Isabelle Kaplan was born, she had one special feature which set her aside. Apart from blue eyes, a healthy weight and strong lungs, Isabelle had something the others did not…
Isabelle was born with an entire head of hair! In fact, Isabelle's luscious locks are so rare from birth, that her photographs are going viral online.
'Izzie' was born to Californian parents Dave and Mackenzie Kaplan. They say she came into the world with a full head of 'anchorman' style hair, which just keeps growing.
"Wherever we go, it's the first thing people notice", said proud father Dave. The 34-year-old was also born with a full head of hair. "They say, 'Wow, would you look at that hair!'"
Dave exclusively told People magazine, "We were expecting to see a bald head or perhaps a little fluff. When she came out with a hair helmet, we couldn't believe it".
Isabelle's parents wash her hair twice a week, with specialised baby shampoo. They let her hair air-dry, and would never use beauty products or heating tools to style Isabelle's locks.
"You have to keep a sense of humour", bemused mum Mackenzie told People magazine about Isabelle's fifteen minutes of fame.
"The funnest thing about this has just been seeing everybody's reaction. It's nice to make everyone smile", Mackenzie said, as Isabelle approaches two months of age.
It's easy to see why gorgeous Isabelle is getting so much attention though. Honestly, somebody get that baby a shampoo campaign!
Isn't Isabelle beautiful? Did you have lots of hair when you were born? Were your children or grandchildren gifted with luscious locks?
Comments