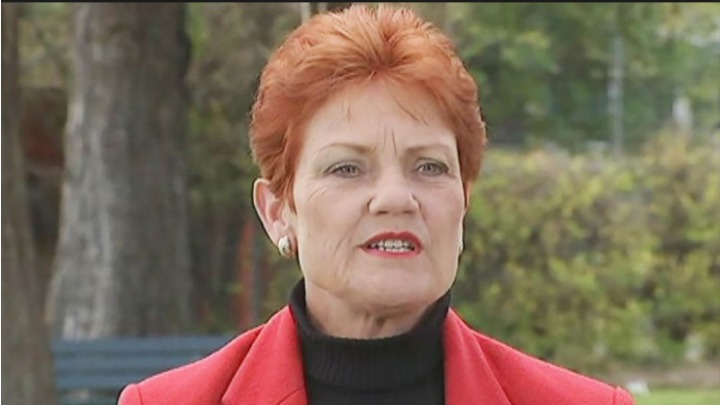 It's only been two days and already One Nation leader Pauline Hanson is causing a stir with her big win at the election and her plans for Australia.
Ms Hanson's party, Pauline Hanson's One Nation, could claim up to six seats in the Senate once all the votes are counted, meaning she could have a real say in the direction of the country's future.
While this is music to the ears of her loyal fans, it has many other people worried as they fear that she will go too far with her views on immigration, multiculturalism and Islam to name a few.
Ms Hanson says that unlike last time she held a seat, she now has a united party behind her ready to push for policies like Family Law reform and putting a major slowdown on foreign investment.
"Clearly the way our nation is going is not in the right direction," Ms Hanson told reporters.
"My opinions and my policies were clearly accepted by the Australian people just last Saturday."
Ms Hanson said that neither Malcolm Turnbull or Bill Shorten have picked up the phone to talk to her yet – although she did ambush Mr Shorten by calling in while he was live on-air at a radio interview – but she is ready push on without them.
She has called for an inquiry into Islam to determine whether it is a religion or a political movement – a call which has already earned her more than a few enemies.
Greens leader Richard Di Natale is positioning himself as Ms Hanson's nemesis, and has labelled her views as "very, very dangerous".
"I hear the comments that she directs at people of Islamic faith, I hear the same sort of slurs that were directed at families like mine a generation ago," Mr Di Natale told ABC radio.
"One of the roles that I'll have in the Senate is to make sure that she's in there for one term and one term only."
But Ms Hanson says multiculturalism has failed in Australia and said that people must adhere to our "Christian values" if they want to live here.
"You have our values, our culture, and our way of life," she said.
"You don't have a full burqa, you don't keep putting up mosques.
"I'd like to know what they are teaching in those mosques. You can't deny the fact that in these mosques they've been known to preach hate towards us."
Her words have angered many who say she is just preaching hate and fear-mongering to get her way.
What do you think about Pauline Hanson? Are you glad she won a seat? Or is this bad news for Australia?
Comments