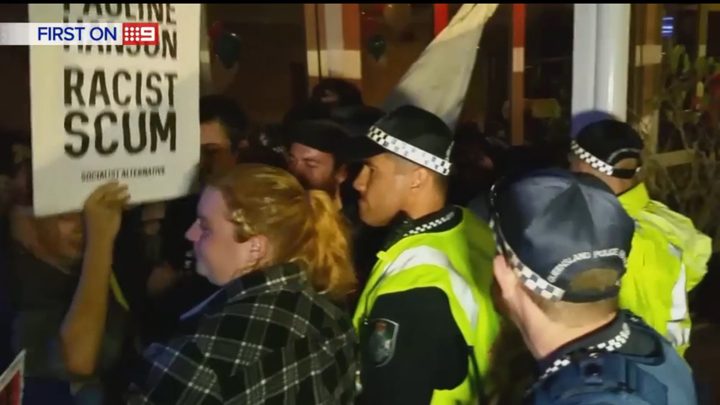 As one of the most polarising figures in Australian politics, Pauline Hanson is no stranger to protestors. It seems last night in Brisbane was no exception: 50 angry anti-racism protestors chanted and shouted outside the Norman Park Bowls Club where Ms Hanson was launching her Senate campaign.
Protesters carried signs that said "Pauline Hanson is Racist Scum", as well as yelling "Pauline Hanson, go to hell – take One Nation there as well".
Protester Carl Jackson told 9News Ms Hanson's politics were unwelcome in Australia.
"There is a wave of racism rising in this country, and we have a responsibility as anti-racists to stand with our Muslim brothers and sisters, to stand with Asians, to stand with Aboriginal people," he said.
"All the people who bear the brunt of the kind of racism that Pauline Hanson and her motley crew whip up.
"Maybe we can't stop them from being racist, but maybe we can make them too ashamed to admit it in public."
As Ms Hanson's supporters arrived at the launch, the group of protestors said "shame on you racists".
Inside, a protestor said "you're all a bunch of f—ing racists" to guests, despite security and police attendance.
Ms Hanson launched her Senate campaign on the hope that this will be her best chance of winning a seat in QLD as support for her has grown over the years.
Tell us: do you think Pauline deserved this incident last night? Is she racist?
Comments