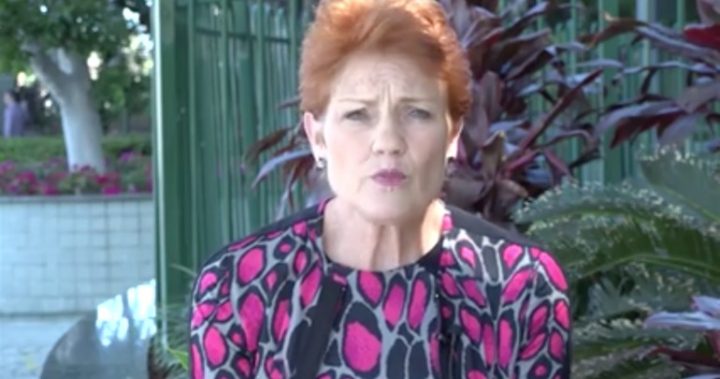 A community in Melbourne's northeast is divided over plans to move refugees into empty rooms at an aged care facility, and One Nation Senator Pauline Hanson something to say about it, too.
Some community members of the Melbourne suburb of Eltham organised a protest over the weekend, and the message was clear: "locals come first".
The residents up in arms are furious over decision to allow over 100 Syrian refugees to move into empty rooms of an aged-care facility.
It's not known when refugees will arrive to the Melbourne suburb of Eltham, but the proposal to move them into the St Vincent's Health Australia (SVHA) facility has already caused a massive rift in the town.
Groups against the idea argue the facilities should be prioritised for local residents, while those in support have put together a book of welcome messages from the community.
"Our elderly care system is for our elderly care people, not for Muslims," said one protester.
"Eltham's major care centre is not for refugees," echoed another.
Protester Sandi Pike's 87-year-old mother lives at the aged care facility and is worried about the prospect of Syrian refugees moving in.
"No-one seems to care about the residents and that's what it's all about," Ms Pike told 7News.
However, just a few suburbs away, another very different gathering was taking place.
"We had about 110 people here. We formed the shape of the word 'welcome'," said Gillian Essex of the Welcome to Eltham Group.
"There is a very large group of people, including some people who are living in that [aged care] facility, who are really looking forward to these people coming," Essex said.
Nina Kelabora from the Welcome to Eltham Group said: "We have put together a book of welcome messages from the community. We have had close to 700 welcome message sent into that book in six weeks."
While most of the buildings at the aged care centre are occupied, there are a number of vacant units and those could be used to house more than 100 Syrian refugees.
Despite this, protester Gary Hughes said: "They can build a unit for them somewhere else, not an aged care facility."
One Nation Senator Pauline Hanson seems to echo these thoughts in a video she posted to Facebook, where she expresses her anger at the decision of moving refugees into the aged care facility.
She says, "This is wrong, because they will get their foot in the door in this aged care facility in Victoria…Where else will it happen around the country? And I'm angry about this because I care about our aged people. They have a right to be in a place where they feel safe and looked after."
She's asked for the voices of the community to let her know what they think, so she can go knocking on the doors of Peter Dutton and the Health Minister.
What do you think about this situation?
Comments