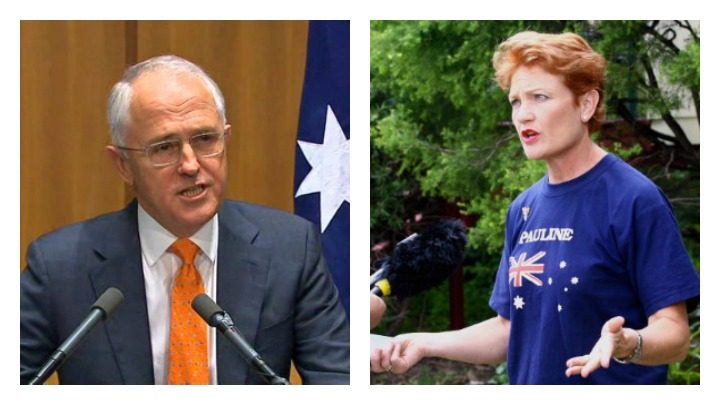 She's never been one to mince her words and it looks like Pauline Hanson isn't about to start now, sending a strong warning to Malcolm Turnbull.
The pair traded insults after the prime minister was asked whether or not he would negotiate with her if she was elected into the Senate.
"Pauline Hanson is, as far as we are concerned, not a welcome presence in the Austrian political scene," Mr Turnbull replied.
"You've got to remember she was chucked out of the Liberal Party."
Bill Shorten also jumped on board, saying she practices "the politics of fear and hate".
"Australians didn't like her views then, they won't tolerate them now," he said.
Ms Hanson was quick to respond to Mr Turnbull's criticism, describing the Liberal party as "arrogant".
"That's why I was thrown out of the Liberal Party — because I was standing up on principle," she said.
"No actually I ended up walking back in and saying I'm resigning because I'm not going to be a yes person."
Thanks to voting reforms, largely promoted and pursed by Mr Turnbull, Ms Hanson has a strong chance of being elected the Senate come July 2.
She has a battle on her hands though, as the Coalition is reportedly organising a campaign to stop her from winning.
While the Coalition no doubt has the power to back a forceful fight against Ms Hanson, it's the power of the people that really matters, with Ms Hanson convinced she will prevail on the day.
She sent a sternly-worded warning to the PM, making it clear that she has no plans to negotiate on her tough stance on immigration and a number of other issues.
"You are going to be so sorry that I am back in that Parliament," she said, as reported by News Corp.
What do you think Pauline Hanson's policies? Do you support her, or is she out of touch?
Comments