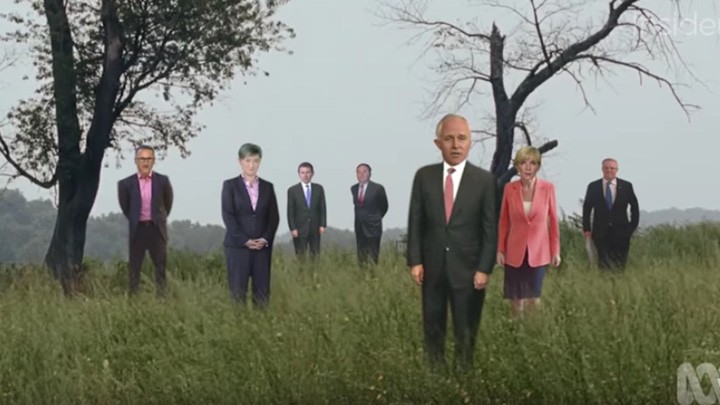 If you missed 2008 film The Happening, let us get you up to speed. This M. Night Shyamalan directed movie starring Mark Wahlberg and Zooey Deschanel was critically panned, much like the election promises made by both Bill Shorten and Malcolm Turnbull.
The premise of the flop film is this: An apocalyptic threat to humanity arrives out of the clear blue sky with a series of violent, inexplicable deaths spreading across the country. The cause of the terrifying phenomenon remains unknown.
Filmmaker Huw Parkinson's latest mash-up for Insiders warns us that 75 days is a long, long time, and things could get dark.
The below video is an hilarious look at how the world (or country) as we know it won't be the same. Luckily we're all well-prepared, having been given spiels for years by Liberal and Labor.
"There appears to be an event happening", says the TV as clips of politicians mumbling and fumbling play. "Confused speech. Second stage physical disorientation".
"Australia is heading for double dissolution", says Malcolm Turnbull, alarming Zooey. "Just when you thought there couldn't be anymore evil invented!", she screams.
They're in a field and the politicians keep appearing. "There's too many of them together!" she shouts.
"What Turnbull has done is inflict on Australia is the longest campaign in living memory", says one pollie. "Yep" says Barnaby Joyce.
"There's now an option of a July election", chimes in Julie Bishop. "We need to do something!", Zooey yells. Panic ensues…
Take a look and tell us, is this pretty accurate? Did it give you a chuckle?
Comments